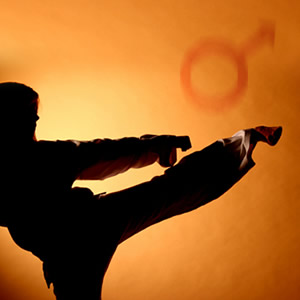 Nowhere are we experiencing more frustration today than right here at DH headquarters in Portland, Ore., where a winter storm is making it impossible to get from A to B, and the world is just not cooperating with all of our ambitious plans.
It's Thursday, Feb. 24, and action planet Mars needs to accept much of the blame for today's stumbling blocks -- no matter what part of the world you're in or what the weather may bring.
The fiery planet is hooking up with wounded Chiron to riddle us with self-doubt, plus Mars is forming an anxious sesquiquadrate aspect to Saturn that's making everything take longer than it should. Self doubt + stumbling blocks = frustration, indeed.
We'd be wise to practice patience today, if only we knew how to do that. It makes us think of that hit '70s TV show "Kung Fu," for today we'll want to be armed with both spiritual training and some mad martial arts skillz to combat pesky problems.
Um, by the way, many of today's problems are of our own making because we just can't find it in ourselves to be very assertive and we're overly concerned about what others may think. But meh, it's more fun to blame Mars.
Fortunately, the Moon moves into optimistic Sagittarius at 4:46 a.m. (PST), so we'll have this chipper sign as our guide through the most frustrating parts of the day.
It's like Sagittarius is Master Po and you're Kwai Chang Caine as played by Keith Carradine, and all you've got to do to succeed is quiet down, have some faith and listen to your inner voice. And the grasshopper at your feet.
Read all the past Daily Buzz astrology advice articles here.
If you like what you see on dailyhoroscope.com, please consider following us on Facebook and Twitter. Daily Buzz is based on the astrology of Rick Levine and Jeff Jawer.