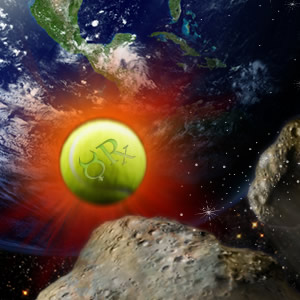 So it's Mercury Retrograde, and many of us are preparing for the worst. But hey, did you know that spinning backward is sometimes actually a good thing? Not unlike dancing, snowboarding or putting that winning backspin on a tennis ball, the backward twirl of MRx has a fun flip side, too. Mercury is retrograde from November 6-26, 2012, and typically the first and last few days of MRx are the most fraught with delays, miscommunications and breakdowns.
We're likely to encounter more than our fair share of frustration as Mercury causes mischief on Election Day and right on through Thanksgiving, but that doesn't mean we need to go wild turkey. There's an upside to MRx, too!
For example, did you know Mercury Retrograde is a great time to get your ex back, revisit old projects and finally finish them, spend some quality time contemplating and planning for the future, have a few epiphanies and basically get your whole life back on the right track?!
This doesn't mean we still won't encounter some pesky problems before Mercury goes direct, but if we smack that MRx ball with some smart backspin, we can still win the game.
Here are a few more ways you can beat Mercury Retrograde at its own game:
Love Tips for Mercury Retrograde »Money Tips for Mercury Retrograde »
Job Tips for Mercury Retrograde »
Read the Mercury Retrograde Horoscopes for November 2012 at Tarot.com »
Cut through Mercury Retrograde confusion with a Celtic Cross Tarot Reading from Tarot.com!