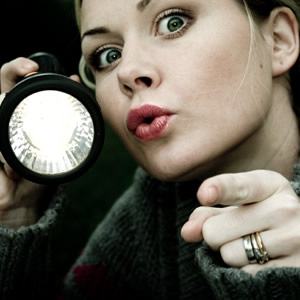 You know that pithy saying, "There's nothing to fear but fear itself?" Well, it's true enough, but it's also a bit of a slap in the face, isn't it? Because sometimes, like today, when we have all these extreme emotions surfacing from somewhere deep within and we can feel the big changes heading our way… well, the fear we fear sure ain't nuthin.
It's Monday, Jan. 3, and we're heading into the first work week of 2011 beneath a Capricorn Moon, which is making a conjunction to transformational Pluto. It's an intense day, leading into tomorrow's Solar Eclipse and the final in a series of Jupiter-Uranus conjunctions for about 12 more years. Tomorrow we'll finally begin to break free of stifling old patterns and replace them with new; but today we're still fearful of making such big moves.
Change is scary for most of us. Even changes for the better can make us feel unsure, insecure, uncomfortable and anxious. But the sooner you face your fears directly instead of trying to flee or avoid change, the faster you'll readjust and realize this is all part of a master plan to move you toward better things.
What kind of changes are we talking about, exactly? It's life-altering stuff, not just a new hairdo or adopting a puppy. For example, maybe you'll have a new career opportunity that seems a bit risky, but would pay off in the long term if you are willing to give it a go. Or perhaps you've outgrown a personal relationship you've been clinging to out of fear of being alone, but you could meet someone better for you if you just let go.
Go ahead and fear the fear today, friends -- that's only natural. But do try to be brave and smart about the way you handle it. Watch for new opportunities coming your way, talk to others about your mixed emotions (including a therapist, if necessary), and spend time today reflecting about what is truly in your own best interest. You'll feel better about making scary changes as soon as tomorrow, when the real action begins.
Read yesterday's Daily Buzz here.
If you like what you see on dailyhoroscope.com, please consider following us on Facebook and Twitter. We need your help to spread the word and fill the world with good Karma!