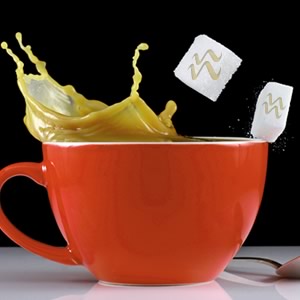 What a fun, crazy and exciting day! We've got a New Moon in Aquarius sparking personal breakthroughs to freedom, feasts to prepare for tomorrow's Chinese New Year celebrations, and goofy groundhogs making psychic predictions about the weather!
It's Wednesday, Feb. 2, and first things first we're going to watch that cute critter Punxsutawney Phil make his annual Groundhog Day prediction. There are about 100 million U.S. citizens battling winter storms right now who are rooting for Phil not to see his shadow, and we think they'll get their wish. After all, Punxsutawney, Penn. is expecting snow, too, so it's unlikely Phil will cast a shadow.
Hoorah, that means we can expect an early spring!
Once we're done watching that marvelous marmot do this thing, we're heading out into the day with full expectations of seeing and hearing some strange sights and sounds -- like Chinese firecrackers, snow shovels scraping and plenty of perky chatter about current issues and innovative new ideas. ("Hey Homer, do ya think we can use this cooking spray to keep the car doors from freezing shut?" "What a fine idea, Marge, let's give it a try!")
Venus and Uranus are forming an electric square that's conducive to rebelliousness and unexpected events; Mercury is sextile Uranus, which is giving us a creative boost of inventive ideas; and Venus is making a sweet sextile to Neptune that's opening our minds to beauty and romance.
As folks rush about shopping for Chinese New Year celebrations and Super Bowl Sunday parties, we can expect a buzz of activity, noisy chatter, impulsive purchases (if you see something pretty today, like a pretty red Chinese paper lantern, you're so going to buy it) and small obstacles to hurdle as we try to get it all done.
Then the real news comes this evening with the Aquarius New Moon at 6:30 p.m. (PST), which is making a conjunction with fiery Mars. When this freedom-seeking Aquarius Moon hooks up with action planet Mars, it will set radical change in motion -- change that will come whether you are quite ready for it or not.
This is because the Moon's conjunction to Mars comes with an element of impulsiveness and insistence on getting your way. You're not really thinking about the past or planning the future, you're just ready and willing to act on a need for change RIGHT NOW.
It might be difficult to distinguish if this is bravery or foolishness, but either way you'll be making moves that would seem too difficult at other times. And for that alone we like this Aquarius New Moon, and the New You it inspires.
Read all the past Daily Buzz astrology advice articles here.
If you like what you see on dailyhoroscope.com, please consider following us on Facebook and Twitter. Daily Buzz is based on the astrology of Rick Levine and Jeff Jawer