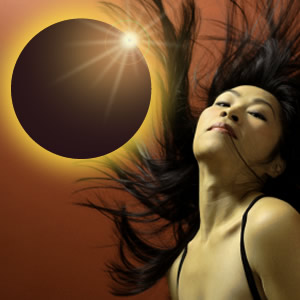 Hey Sweden, let us know how ya like your view of today's New Moon Solar Eclipse! We can't see it from here at DH headquarters in Portland, Oregon, U.S.A., Planet Earth, Milky Way Galaxy, The Universe… but if you live in Europe, North Africa, the Mideast or central Asia, you're in luck.
And you know what else? Even if you can't see the New Moon Solar Eclipse in Capricorn from your corner of the world, you can at least rest assured sure you'll feel it. And even better, you'll feel positively solar powered by it.
It's Tuesday, Jan. 4, and whether or not you see the exciting eclipse at 1:03 a.m. PST (the greatest eclipse takes place over northern Sweden at 08:50:35 UT), you will likely begin to see or make some exciting changes in your life. This is a day we've been waiting for!
In addition to the new beginnings sparked by this solar eclipse, Jupiter is making a conjunction to Uranus in the sign of Pisces (the last in a series of three such conjunctions that began last June), and the duo is trined by love planet Venus -- all adding up to a remarkable day of endings, new beginnings and cravings for life-altering adventure.
If you've been frightened of making changes recently, you may find that fear suddenly vanish as you begin to shift from fear to excitement. You'll feel optimistic and free to chase the future and pin it down, and you'll finally be able to let go of things or people that have been holding you back.
Because the eclipse takes place in hard-working Capricorn, it's quite possible you'll be making changes that will lead to career advancements and greater professional achievements. Perhaps you'll decide to go back to school, switch careers or launch a new media empire a la Oprah.
You may be so ready for change, in fact, that you're willing to take some big risks to start moving in a new direction. For example, if you've struggled with unemployment in 2010 and you're getting fed up, you may finally be ready to relocate to find work, or to start your own business. In other words, if you've ever wanted to quit your day job to open a cookie factory, now's the time! (Ok, maybe think that one through a little bit, but you know what we're sayin.)
Venus also contributes to this optimistic day, making a positive trine to the Jupiter-Uranus conjunction that bodes well for relationships and finances. Our minds are open to finding new love and new sources of revenue -- good news if you've been falling short on both. But we can also go deeper with existing relationships or vow to behave smarter with what money we already have, too.
So what changes are you going to invest in today? Love, money, career? All three? Why not, it's a whole new world – starting today! Now get out there and act on it!
Read yesterday's Daily Buzz here.
If you like what you see on dailyhoroscope.com, please consider following us on Facebook and Twitter. We need your help to spread the word and fill the world with good Karma!