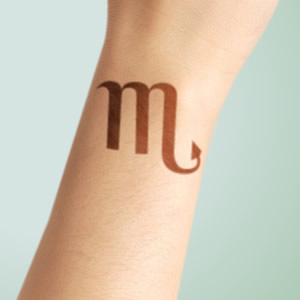 Who's having a zodiac sign identity crisis? Not us! As we head into the holiday weekend, the media frenzy continues around false news reports that everyone's zodiac signs are about a month off due to a wobble around the Earth's axis. Phooey.
That's planetary poppycock, of course, and our expert astrologers are all over this hot topic to give you the truth about Ophiuchus, "the 13th zodiac sign," which isn't really a sign at all -- it's just a constellation that has everything to do with astronomy and nothing to do with Astrology.
So no, your zodiac sign isn't wrong. But still a panic has ensued over the past few days from the false news reports dished up by everyone from FOX News to PerezHilton.com.
Facebook and Twitter were filled with posts from people worried about their tattoos -- what to do if you're inked as a Scorpio and wake up a Sagittarius? Even the best tattoo artist would have trouble turning a scorpion into an archer.
Even more amusing, irreverent online greeting card company someecards.com went as far as to create a new e-card in response to the new zodiac sign hype. It reads "Sorry about the crippling identity crisis that was caused by learning your new zodiac sign." Ha!
We've got no cosmic identity crisis here at DH headquarters, though. We've been working overtime to set the story straight, and we had so much extra web traffic it even briefly crashed our site. But more than anything it's been an exciting reminder of how important astrology is to so many people.
Our hard work is paying off because the mainstream news reports are finally starting to reflect the truth. Check out our own Master Astrologer Jeff Jawer setting CNN straight in the latest news ("No, Your Zodiac Sign Hasn't Changed") and read the truth about Ophiuchus and the 13th zodiac sign here.
And now that you know the truth, you can spend Friday relaxing under the comfy Taurus Moon before the cosmos get complicated over the weekend. Action planet Mars is moving into quirky Aquarius on Saturday, sparking cravings for freedom and perhaps some unexpected twists of fate. And Sunday gets jittery when the Gemini Moon trines Saturn and you feel restless, perhaps looking to the past for answers.
On Monday, as Daily Defenders of Good Karma, we here at DH headquarters will be celebrating the Martin Luther King, Jr. federal holiday, and paying tribute to this original King of good Karma.
The Sun is sextile Uranus on Monday, too, which encourages us to change our immediate surroundings and make creative changes. Do you have a dream, like King? This is a great day to take risks and make it come true!
Read yesterday's Daily Buzz here.
If you like what you see on dailyhoroscope.com, please consider following us on Facebook and Twitter. We need your help to spread the word and fill the world with good Karma!