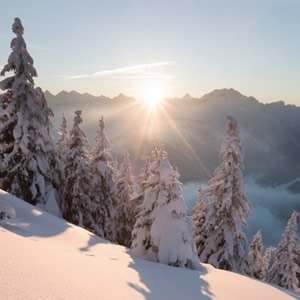 Winter rages on in many parts, but a little shot of summer will warm our hearts over the next few days. Yes, even all you folks dealing with the record heaps of snow being dumped on the U.S. East Coast can still enjoy the warmth of the sunny Sagittarius Moon.
Cosmic energy lightens up over the weekend of Friday, Jan. 28 to Sunday, Jan. 30, and it's a perfect time for socializing, romancing, going out to brunch and taking long walks. (Or, uh, long walks in the snow while safely bundled in a cozy puffer and Moon Boots.)
On Friday, we'll have an improved outlook from recent days as the adventurous Sagittarius Moon makes a trine to happy-go-lucky Jupiter, and our sense of well-being should improve immensely. The Moon also sextiles Mars and the Sun this day, which further supports harmonious relations with others -- especially the opposite sex.
Did you hear that? Harmonious relations with the opposite sex!! One could say Friday puts the "sex" back in "sextile," ha! Friday may come with a bit of restlessness, too, but you can easily channel that into a great date night or outing with friends -- the energy's right for a chance meeting with someone special.
This effortless energy continues into Saturday, though you may prefer to focus on getting things done. If you've got chores or errands to run this weekend, do them Saturday while the Moon makes a sextile to taskmaster Saturn. But finish up early, 'cause Saturday night is all about sweet, sweet satisfaction as the Moon joins love planet Venus. How about that -- two hot nights for romance this weekend!
On Sunday, the weekend's lighthearted feeling shifts a bit when the Moon moves into practical Capricorn and forms a square first to erratic Uranus and then to Jupiter. You may feel like doing something new and different early in the day, like exploring a new restaurant for brunch or checking out a museum exhibit or gallery show.
On Sunday afternoon or evening, when the mood for deep thinking hits, entertain your philosophical spirit by seeing one of the movies nominated for an Oscar for Best Picture. Details aren't your thing today, but a movie with an inspiring message just might be.
Do prepare to feel some intense emotions by Sunday night, as the weekend closes on a Moon-Pluto conjunction that may feel a little uncomfortable, but also may teach you a thing or two about yourself if you let it.
Read all the past Daily Buzz astrology advice articles here.
If you like what you see on dailyhoroscope.com, please consider following us on Facebook and Twitter. Daily Buzz is based on the astrology of Rick Levine and Jeff Jawer