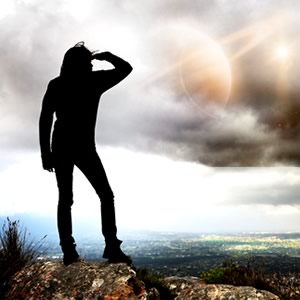 What's with the thin lips? Why so serious? Wanna talk about it? Come on in, lay down on this lovely chaise lounge and we'll talk it through.
It's Tuesday, Jan. 25, and a dark cloud may begin to threaten your emotions as Saturn, the karmic planet that rules our responsibilities to ourselves, slows down and prepares to go retrograde at 10:10 p.m. (PST).
At the same time, communication planet Mercury is moving toward a square with Saturn that intensifies this weighty aspect, and will have you taking a serious look at your life and realizing -- uh oh -- you have some work to do.
It will be difficult to look at things in a positive light under these somber cosmic conditions. Regrets may creep in as you review your responsibilities and commitments, and you may withdraw into loneliness and fear rather than communicating about your feelings or confronting needed change.
But that's why you're here! Let us give you some helpful advice: Things are not as bad as they seem. Try to remember you're not seeing the whole picture before you go doing something you'll really regret, like walking away from a friend or lover just because you're temporarily mired in doom and gloom.
Fortunately, your therapy today comes courtesy of a Mercury-Uranus quintile that's offering a glimmer of light to help you overcome these temporary emotional blocks. If you can pay a little extra attention to your intuition, it's possible you'll find a new solution to the old problems causing you anguish today.
How? Take out a pad and pen and carry those babies around with you all day. Make it a point to combat every negative thought you have with a positive one, and put it in writing. Keep that pad with you all week -- you'll need it as the Moon shifts from lighthearted Libra to intense Scorpio this evening, and to deal with rest of the week's challenging energy, too.
If you can stick with this extra effort to keep what's positive forefront in your mind, the dark clouds will break and the outlook will be brighter by Friday.
That'll be $125.00, please. (Just kidding! See, we made you laugh. Things are looking brighter already.)
Read all the past Daily Buzz astrology advice articles here.
If you like what you see on dailyhoroscope.com, please consider following us on Facebook and Twitter. Daily Buzz is based on the astrology of Rick Levine and Jeff Jawer.