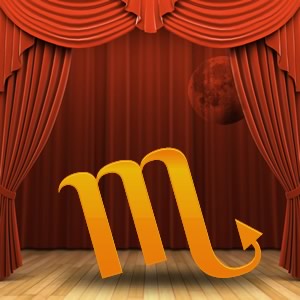 Is this your life, or a high school play? It's hard to tell, what with all the melodrama. And please don't take this personally, but you're not the best actor. But at least you're on.
That's because it's Thursday, Jan. 27 and the passionate Scorpio Moon is driving you to extreme emotions you just can't keep to yourself. But even if you're expressing yourself a little tooooooo much, there's an upside to consider.
Mercury is forming a quintile to excessive Jupiter, and you have something to say -- out loud and clear, with no concern for the consequences. Say what you will and stick your ground, because today you're starring in your own show and this truth you feel the need to speak is most likely right on target.
You'll get an additional round of applause from Mars, as the fiery planet makes a septile to Jupiter that's taking a supporting role in your drama.
What makes this show such a smashing success is that while in the throes of theatrics, you'll have the courage to tackle problems head-on and finally see some movement.
It's downright exciting, even if the outcome is not what you expect. Whatever happens, you'll put on quite a show. And for that you deserve a standing ovation.
Read all the past Daily Buzz astrology advice articles here.
If you like what you see on dailyhoroscope.com, please consider following us on Facebook and Twitter. Daily Buzz is based on the astrology of Rick Levine and Jeff Jawer.