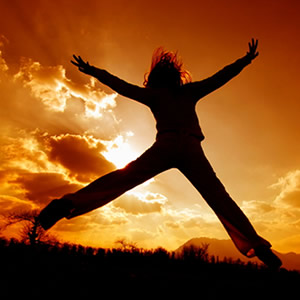 We're bursting with energy all weekend, fueled by the biennial Sun-Mars conjunction on Friday, Feb. 4 and staying restless all the way through Sunday, Feb. 6. We want to be free, and we'll fight for it!
Friday, especially, is not a great day for sitting still -- you need some physical exertion to deal with your urgent need for action. If you can't get the day off from your desk job, try to go for a walk or jog at lunch to avoid becoming irritable.
You might also consider getting your physical exertion in a sexy setting Friday, as the Sun-Mars conjunction arouses passion at the same time the dreamy Pisces Moon inspires romance. Love planet Venus also moves into Capricorn Friday, and although it's a practical sign, Cap definitely loves deep and strong. Don't be surprised if you find yourself falling hard -- and for keeps -- on Friday night.
On Saturday, we'll still be feeling restless enough to seek out new and different ways to spend our time, but there's an overall dreamy and hopeful quality to the day. Not just because you had such a hot Friday night, but also because mental Mercury is forming a sextile with lucky planet Jupiter.
You'll be thinking about the big picture of your life on Saturday, and feeling curious about the world and generous toward others. Take advantage of this energy to study topics that interest you and read up on foreign places you might want to visit. Or phone a friend living far away and hear about all their adventures, which might inspire some future adventures of your own.
Sunday is a bit off-balance as we struggle to find a happy place between stability and our desire for instant gratification. The Sun and Mars trine Saturn, which lends discipline and focus to highly detailed and intellectual tasks. But at the same time Venus is square Jupiter, which is all about indulgence and fun -- sometimes too much of a good thing, in fact, and a warning not to overeat or overspend.
Hmmmm…. sounds like the answer to this conflicting cosmic energy on Sunday is to invite a friend over to work on your taxes together, but make sure you're accompanied by a great big salty-sweet pizza pie. That's freedom worth fighting for fer sure.
Read all the past Daily Buzz astrology advice articles here.
If you like what you see on dailyhoroscope.com, please consider following us on Facebook and Twitter. Daily Buzz is based on the astrology of Rick Levine and Jeff Jawer.