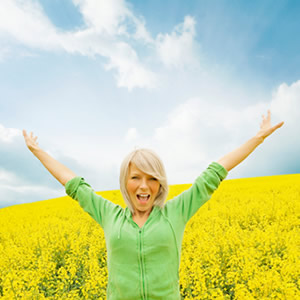 Monday, Dec. 6: We're kicking off Monday morning under the stimulus of the optimistic Sagittarius Moon -- an even more delicious daily pick-me-up than those egg-nog lattes we slurp non-stop this time of year. (Calories schmalories, that happiness-in-a-cup is worth the extra cardio.)
Yesterday, as Uranus went Direct, we launched the all new dailyhoroscope.com with a new look and mission to empower you with fresh insight and practical advice every day. It's a bright new beginning for us, and new beginnings are in store for so many of you, too. You'll likely begin to really feel this energy today -- and you may even be tempted to push beyond normal limits.
Speaking of pushing limits, we just saw this Norwegian talk show footage of Huey Lewis, Tonya Harding and a whole gaggle of '80s and '90s celebrities singing John Lennon's "Let It Be" in tribute to the popular peacemaker. Everyone from Ricki Lake to Judd Nelson is chiming in... what the?? If that's not pushing beyond normal limits, we don't know what is! Kudos to the "Gylne Tider" show for showing us pretty much anything is possible, no matter how random.
Your own dreams will take on greater significance today, too, with the Sun quintile Neptune. You want those dreams to become reality, and you'll do whatever it takes to start putting a plan in motion. That might mean ignoring your common sense, as the Moon is making squares to both Jupiter and Uranus and details are less important to you now. You're just thinking about where you want to go, and you you'll find a way to get there somehow. It's kinda like the Nike motto. Our DH neighbors here in Portland, Ore. have been saying for years it's less important to worry and fuss over how to do it, and more important to "Just Do It."
With today's astrology aspects encouraging the desire to change our lives, and The Sagittarius Moon giving us the boost to actually do it, big changes are afoot. And as for common sense… who needs it, right? Those of us venturing out on a new path with the intent of making our dreams come true can't be held back by the limitations of practicality, can we? We're guess Gylne Tider would agree!
Grab that high calorie cup of whatever makes you happy and drink it all in.
If you like what you see on dailyhoroscope.com, please consider following us on Facebook and Twitter.