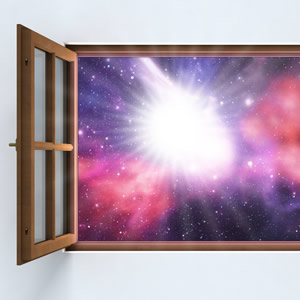 Hey, have you noticed there's a great big world out there? It's just waiting for you to put down your smartphone, close your laptop and step outside. Today's a great day for that, as your whole world view expands and the big picture comes into realistic view.
It's Thursday, Jan. 13 and you're feeling practical, but that's practically fantastic! Mercury is moving into cautious Capricorn, the Moon's in earthy Taurus and Mars is sextile Jupiter -- and while that all adds up to you taking a sensible approach to life, it also means you'll seriously consider opportunities for personal growth and new activities.
Today's cosmic influences make your goals and objectives more clear, and you'll find it easier to focus on pursuing them. You'll tackle jobs with energy and determination, and when you're done you'll start thinking about what other things you can do to improve your life. Better yet, your serious approach to the day means you'll really do the things you dream up -- no matter how grandiose.
Your interest in different cultures and getting to know others is highlighted today, so it's a perfect time to snatch up a few travel magazines and plan a vacation -- it's resort season after all. Or even better, do some research about volunteering abroad, which will open your eyes to new cultures in an affordable and rewarding way.
With the Mars-Jupiter sextile encouraging decisive action, by day's end you could be all signed up to do volunteer landscaping at an eco lodge in the Caribbean, caring for the beasties at an Elephant Orphanage in Sri Lanka – or just philosophizing on the beach with a Mai Tai and a friend you meet traveling.
Did your world just get a little bigger and brighter or what?!
Read yesterday's Daily Buzz here.
If you like what you see on dailyhoroscope.com, please consider following us on Facebook and Twitter. We need your help to spread the word and fill the world with good Karma!