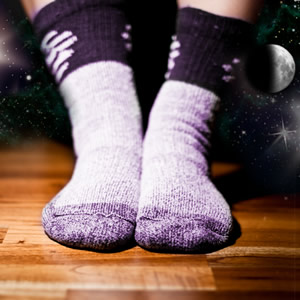 Uh-oh. You're in trouble! Then again, maybe you're not. It all depends on how your performance has been lately, and if you've been slacking off… well, today is your reckoning day.
It's Thursday, Feb. 10 and things are status quo for the most part. We're still under the influence of yesterday's loving energy, and the Taurus Moon is keeping things lazy. Er, sorry, we meant "cozy."
With four planets in futuristic Aquarius and lucky planet Jupiter in action-oriented Aries, we may be thinking about getting up and getting out, trying some new things and meeting some new people. But… meh. We'll do that later. Right now we're just going to slip into a sexy nightie (ok, sweat pants and thick socks), snuggle and finish off that big ol' pizza we ordered yesterday.
The only threat to all this cosmic sofa surfing is an intense semi-square from the Sun to Pluto, which may present some challenges to our security -- at home, work or elsewhere we're held accountable. Someone in authority may challenge you today, and if you can meet the challenge successfully (ie, tell them what they want to hear) you'll be able to get back to your Twilight DVD Box Set tout de suite.
However, if someone is unhappy with you or if you've been performing poorly lately, get ready to hear about it. But stay cool, because even if you are in a little bit of trouble, it may be just the wake-up call you need to turn things around.
Read all the past Daily Buzz astrology advice articles here.
If you like what you see on dailyhoroscope.com, please consider following us on Facebook and Twitter. Daily Buzz is based on the astrology of Rick Levine and Jeff Jawer.