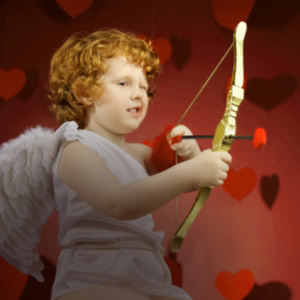 Forget Cupid -- love planet Venus is the one to watch, as she delivers the loving spirit of Valentine's Day five days early and with as much passionate force as that chubby little cherub himself.
It's Wednesday, Feb. 9, and the day's loving energy comes courtesy of a sensual Taurus Moon making a trine to Venus and Pluto, plus an evening conjunction between va-va-voom Venus and Pluto.
Our desires and feelings will be intense today, and our relationship expectations could run quite high. That's because we seem to know exactly what we want, and we'll be a little bit stubborn about accepting anything less.
But no worries, you won't need to accept anything less because love is in the air bigtime, and today and tomorrow will both create a powerful atmosphere for making love connections. You may meet someone new -- and if you do so now it could get deep and serious fast. Or if you're already in a relationship, now's a great time to indulge it.
Settle down with your sweetie beneath the pleasure-loving Taurus Moon and order up all things sweet, simple and sexy. Share good food, good talk, good music, good lovin' and good times all around.
If the talking starts to get too heavy for you today, it's ok to change the subject by cramming a big piece of chocolate cake in your partner's mouth.
And if you're single, use today's beautiful cosmic energy to indulge yourself or your home with a new look. Love planet Venus is just as happy to deliver a pretty new hairstyle or a pretty new vase as she is to deliver love. Take that, Cupid!
Read all the past Daily Buzz astrology advice articles here.
If you like what you see on dailyhoroscope.com, please consider following us on Facebook and Twitter. Daily Buzz is based on the astrology of Rick Levine and Jeff Jawer.