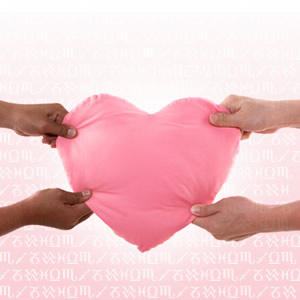 Are you a believer or a skeptic? We're talking about Valentine's Day, and we're talking about the divide between folks who love any excuse to celebrate love, and others who prefer to celebrate love on their own time and dime -- without all the "Hallmark holiday" hoopla.
It's Monday, Feb. 14, and we'll hear battle cries from both of these sparring love camps today. But the fact is, whether or not you plan to shove pink candy hearts in your mouth all day long, it's going to get complicated.
We know, when isn't Valentine's Day complicated? But the thing is, today's sensitive Cancer Moon is making harsh aspects to Jupiter, Pluto and Venus that are stressing us out.
Instead of feeling the pure bliss we should on such a lovey-dovey day, some worries and anxiety could put a damper on our emotions -- at least during the earlier part of the day.
With the Moon opposite Pluto, feelings and interactions with others can get serious and intense. The fact that this is happening on Valentine's Day makes it even more extreme -- after all, the holiday is prime for heightened feelings of joy, passion, jealously, loneliness, insecurity, anger and all those conflicting feelings love brings up in us on even the best of days.
What are we talking about? Well, if you get a big bunch of flowers from your sweetie, you might still find yourself wondering if they're the right partner for you instead of just enjoying the attention. Or if you don't get a big bunch of flowers, you might become angry and create conflict.
This worrisome energy will settle down toward the evening, thankfully, and you'll be thinking more clearly. The Moon will move opposite Venus and put you in the mood for intimacy and indulgence, so even if you do have a fight or disappointments during the day, tonight you'll be in the mood to make up and make out.
Just for the record -- we are believers.
Don't forget to read your Valentine's Day Horoscope for more of what's in store for today, and spread the love!
Read all the past Daily Buzz astrology advice articles here.
If you like what you see on dailyhoroscope.com, please consider following us on Facebook and Twitter. Daily Buzz is based on the astrology of Rick Levine and Jeff Jawer.