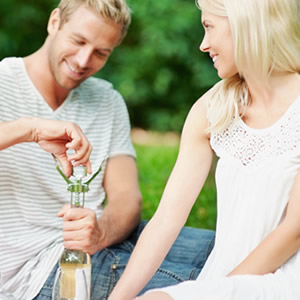 Va-va-voom! Venus is flirting up a cosmic storm today, first forming a sexy sextile to Uranus at 6:49 a.m. (PST), and then Venus is moving into airy Aquarius at 6:39 p.m. (PST) to inspire romantic adventures now through March 27.
It's Tuesday, March 1, and we're excited to see this pivotal month begin with such a social spark. The Moon is also entering Aquarius today, which gives us an anything-is-possible outlook that attracts us to new experiences, and -- even better -- it makes us more attractive to others who want to be a part of that positive energy.
It's a perfect day for going to a party, meeting new people (friends or lovers), or at the very least calling up your most offbeat and interesting friends, because you crave more excitement today than the normal routine can offer.
One thing: As you're flitting and flirting about, do keep in mind if you meet someone interesting that a permanent relationship is not very likely under this aspect.
Freedom and adventure are the name of the game now, to the extent that you may even find yourself taking risks you might not normally take in the name of F-U-N.
But who needs permanence with all of today's independent Aquarian energy? A nice little pre-spring fling might be just the stimulation you need as we wind down winter and get ready for a new spring cycle.
Speaking of spring, it's coming up fast. Did you read the March horoscopes yet? We're in for some exciting changes this month, starting today.
Read all the past Daily Buzz astrology advice articles here.
If you like what you see on dailyhoroscope.com, please consider following us on Facebook and Twitter. Daily Buzz is based on the astrology of Rick Levine and Jeff Jawer.