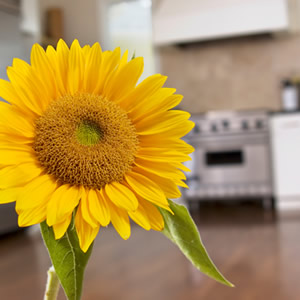 Yooooo-hoooooooo, are you there? You've got that vacant look in your eyes that can only mean you're daydreaming. Fantasizing about warmer climates, perhaps? Or imagining yourself performing for J. Lo on American Idol? Wherever your mind is wandering, go ahead and give it a nice long leash.
Friday, Jan. 21 to Sunday, Jan. 23 is optimized for daydreaming and relaxing, tidying up around the house and socializing with friends -- pretty much in that order.
On Friday, when a Venus-Neptune quintile intensifies our dreamy state of mind, it's best to not make plans. Keep yourself fluid and open to unexpected twists of fate that may arise. At 3:10 p.m. (PST) the Moon will shift from expressive Leo to sensitive Virgo and you'll feel reserved and resigned to your thoughts, so it's a better evening for staying in and reading or working on an art project.
Come Saturday, you'll awake to a nitpicky Virgo Moon urging you to rub and scrub the kitchen tiles. What? But what about skiing or doing something F-U-N?! Actually, you'll be pretty happy to spend the whole day tidying up and taking care of household chores you've been putting off. For some reason it will feel really good to know the back of the miniblinds are finally clean.
Planet of opportunity Jupiter moves into go-getter Aries on Saturday, too, so if you're not preoccupied with accomplishing things around the house, you'll surely pursue other exciting ways to shine. But then, like POOF, the Moon forms a square to Venus at 5:47 p.m. (PST) and you'll collapse in a lazy heap. A totally justified lazy heap, at least.
Spend Saturday night doing something low-key, familiar and pleasurable if you're coupled up, and if you're single be wary of going out and chasing down a new love affair just because you're lonely. You might attract someone who's not right for you (shyeah, right, sorry if that sounds like almost every other Saturday night), and your desire for pleasure makes you vulnerable this night. Pay attention -- we just want to spare you any Sunday morning regrets.
Your need to be wary of instant gratification carries into Sunday, when an impulsive Mars-Uranus septile tempts all your urges. Fortunately, the Virgo Moon offers up a pragmatic solution: Plan an impromptu dinner party! By the way, instant gratification is allowed if you're buying bacon-wrapped-scallops for your friends and one just happens to fall in your mouth.
By the time your dinner guests arrive, the Moon will be in lovely Libra and opposite Jupiter. These two social aspects will elevate your mood and close the weekend on a happy, chatty note. In fact, you may get so excited about it that you invite over too many people. Now aren't you glad you spent Saturday cleaning the kitchen?
Read all the past Daily Buzz astrology advice articles here.
If you like what you see on dailyhoroscope.com, please consider following us on Facebook and Twitter. We need your help to spread the word and fill the world with good Karma!