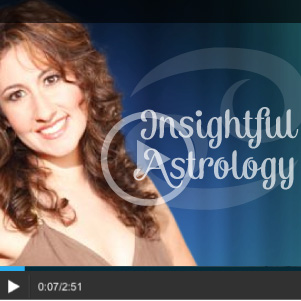 Your Weekly Horoscopes are getting a makeover!
We want you to be the first to know about some exciting changes coming to your video horoscopes!
After seven years of producing Weekly Video Horoscopes, the Weekly format will be transitioning into a new, in-depth Monthly format. That's right Monthly Horoscope Videos, custom to your zodiac sign -- coming SOON! These new videos will be available on your sign's monthly horoscope over on Tarot.com.
Really need insight for this week specifically? Fear not! You can still get weekly insight right now from your:
• Hearts & Hates Weekly Horoscope
• Weekly Love Horoscope
Maria explains this change here:
Go beyond the week and learn more about Cancer!
Keep it quiet: Cancer and keeping secrets
Being upfront does not come naturally to you, yet holding things inside can give you an ulcer. So, you may end up blurting out your true feelings about a person or situation, adding, "but please don't tell anyone" for fear of retaliation. Though you'd have a hard time keeping a secret if it adversely affected someone you're fond of, you'd delight in keeping your a family secret under wraps, since it bonds you closer.
Balance the books: Managing money for Cancer
Ever security conscious, you take great pleasure in saving money. Your blessings can become burdens, however, if you spend too much time worrying about squandering those resources. You'll get much more pleasure from your money when you use it to nurture yourself. Don't hesitate to splurge on domestic delights that afford long-term pleasure, like expensive cookware, fluffy towels, and designer sheets. Get more advice regarding your finances and investments from a Financial Celtic Cross Tarot reading here »
Play it up: Cancer's favorite board games
Cancers are super nostalgic, so when it comes to board games you'll dash down the children's aisle. First there's the standard that all kids absolutely must learn: Checkers, but you'll also revel in replaying classics likeCandyland, Operation, and Pictionary.
Waste some time: A guilty pleasure for Cancer
You are often home-bound -- which is not to say you're simply a homebody. You are devoted to all things familial, and often play the part of mother to those in your life. So give yourself a night off. Hire a babysitter for the kids, or put off returning that phone call to Ma until tomorrow morning. Then hit the town with a good friend, and let them be in charge of the itinerary for once!
Save the world: The Cancer superhero
Sensitive, caring Cancers are known for sometimes being shy and wanting to withdraw or hide away from the world. How wonderful to be able to disappear via the superpowers of the Invisible Woman, also known as Sue Storm. Like most Cancer women, Sue Storm is nurturing and highly protective of her home, creating a forcefield of protection around her Fantastic Four family.
Cut that out: Breaking Cancer's bad habits
How do you stay so sweet? Take a look at your sugar intake ... Cancers loves cookies, candy, and ice cream. An occasional indulgence is fine, but too much dessert can take a toll on waistlines and energy levels. What you're really seeking is oral gratification. Sugar-free gum or dried fruit provides a healthy distraction from candy crunching.
Flaunt it! The first date outfit for Cancer
You're shy by nature, but you don't want to hide your true self when first getting to know someone. Pick your best feature, be it your glowing skin, chest or shapely legs, and play it up a little. Pair a sheer, subtly ruffled, low-cut blouse with jeans or trousers to show off your feminine attributes, or choose a simple but classy sheath dress and heels if you're going out to an elegant restaurant. Keep your love life on track with more insight from a Relationship Potentials reading now »