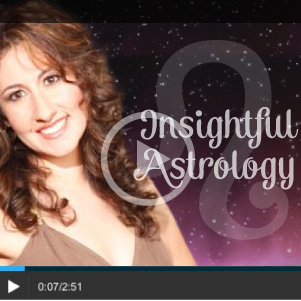 Your Weekly Horoscopes are getting a makeover!
We want you to be the first to know about some exciting changes coming to your video horoscopes!
After seven years of producing Weekly Video Horoscopes, the Weekly format will be transitioning into a new, in-depth Monthly format. That's right Monthly Horoscope Videos, custom to your zodiac sign -- coming SOON! These new videos will be available on your sign's monthly horoscope over on Tarot.com.
Really need insight for this week specifically? Fear not! You can still get weekly insight right now from your:
• Hearts & Hates Weekly Horoscope
• Weekly Love Horoscope
Maria explains this change here:
Go beyond the week and learn more about Leo!
Keep it quiet: Leo and keeping secrets
You are excellent at keeping secrets, Leo. In fact, the bigger the secret, the better you are at protecting it. It makes you feel important to be in on privileged info, and you take the responsibility seriously. Because your word is important to you, you don't give it lightly. But if you like and trust someone, you're inclined to keep their confidences -- unless, of course, another person's safety or matters of national security are at stake.
Balance the books: Managing money for Leo
There's no doubt about it, Leo -- you love living in style. This requires careful money management skills. Fortunately, your desire to have only the best things in life prevents you from wasting money on cheap, tawdry items that don't stand the test of time. Still, it's important for you to find a way to finance your expensive tastes. Try offering your services as a professional shopper or writing consumer reports or product reviews. Get more advice regarding your finances and investments from a Financial Celtic Cross Tarot reading here »
Play it up: Leo's favorite board games
You love to be the star of the show, and yes, you need to win ... even if you're playing against children. Your best board game is Yahtzee, because it's luck plus skill, which is the combination you believe in most.
Waste some time: A guilty pleasure for Leo
Not only are you the diva of the zodiac, Leo, but under the sign of the lion, you are very regal. You like to be the center of glittering social events, so to take a night off, why not slum it a little? Find a dive bar and revel in the new atmosphere. You might not be able to find your favorite vineyard's Cabernet, but won't it be exciting to try a new brew? And you don't have to give up the limelight completely. After all, many such places offer you the chance to show off your center stage talents by wrangling a mechanical bull.
Save the world: The Leo superhero
Drama-loving Leos will identify with wise-cracking webcrawler Spiderman, who -- unlike his unassuming alter ego Peter Parker -- does not shy away from being the center of attention when he's saving the day. Spidey also has that typical Leonine love of romance, wooing the vivacious Mary Jane Watson like the Leo ladykiller he is.
Cut that out: Breaking Leo's bad habits
The guy who's sitting next to you in the elegant restaurant, shouting to his personal assistant on his cell phone? Probably a Leo. It's only natural that a sign that is blessed with creativity, charm, and wit feels tempted to show off. Actually, this desire to brag is rooted in insecurity. The sooner you learn to compliment others, the quicker you'll receive the praise you crave.
Flaunt it! The first date outfit for Leo
You can pull off glamorous looks that many never could, Leo -- like a short, sexy dress with leather belt and Grecian sandals. Or opt for a sheer lacy top with low-rise jeans to show off your trim midriff and diamond-studded belly. Your date will know he's dealing with a Lioness, even if you're only going for burgers and beer, when you team your most elaborate hoop earrings with a simple, low-cut t-shirt and jeans. Keep your love life on track with more insight from a Relationship Potentials reading now »