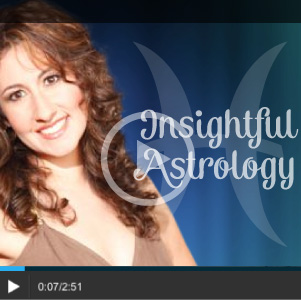 Your Weekly Horoscopes are getting a makeover!
We want you to be the first to know about some exciting changes coming to your video horoscopes!
After seven years of producing Weekly Video Horoscopes, the Weekly format will be transitioning into a new, in-depth Monthly format. That's right Monthly Horoscope Videos, custom to your zodiac sign -- coming SOON! These new videos will be available on your sign's monthly horoscope over on Tarot.com.
Really need insight for this week specifically? Fear not! You can still get weekly insight right now from your:
• Hearts & Hates Weekly Horoscope
• Weekly Love Horoscope
Maria explains this change here:
Go beyond the week and learn more about Pisces!
Keep it quiet: Pisces and keeping secrets
You are a master at keeping secrets, Pisces -- in fact, you're capable of hiding whole aspects of your life. But you also love to help people, and therefore when a friend confides in you, you may end up sharing their story as a "teaching tool" for someone else who's facing a similar situation. Though you're scrupulous about not naming names, take care that the distinctive details stand no chance of incriminating the person in question.
Balance the books: Managing money for Pisces
As a general rule, you don't concern yourself much with money matters, Pisces. To change this, consider how much good you can do by managing your finances well -- because when you have extra money in your pocket, you never fail to spend it on worthy causes. You have especially good luck with investments related to health care, beverages and shipping. Since day-to-day money management doesn't interest you, it may be in your interest to sign up for as many automatic bill-paying services as possible. Get more advice regarding your finances and investments from a Financial Celtic Cross Tarot reading here »
Play it up: Pisces' favorite board games
Sorry seems like the perfect game for a Pisces, since arranging, accepting and extending apologies are your specialties. That might not be a bad second runner-up, but if you're spiritually inclined and not afraid of the afterlife, an Ouija Board is far more perfect. It allows you to give your spiritual side free reign. Otherwise, there's Bingo. This game blends every age, race and gender, uniting them all in the belief that riches are just a step away. Either way, faith is the common denominator -- and Pisces equals faith.
Waste some time: A guilty pleasure for Pisces
As the sign of compassion, you often put others' needs before yours. Lighten up your calendar and give yourself a holiday by purposely breaking a social call. Instead of taking a friend out for a happy hour drink and listening to her complain about her job, do something self-indulgent by yourself. Or -- to go totally counter to your nature -- put your artistic urges to good use and create a snarky online photo album of your friends looking silly after having a few too many drinks. You're not normally petty or critical -- enjoy it for once!
Save the world: The Pisces superhero
Who swims with the Pisces Fishes? Why, Aquaman, of course! But Aquaman doesn't just live beneath the sea and communicate with marine life -- he also captures the sensitivity and imagination of Pisces. Changeable, adaptable, and understanding of others to the point that he even possesses a healing factor, Aquaman uses his Pisces imagination to whip up tsunamis and wipe out crime, restoring a Piscean peace to the land.
Cut that out: Breaking Pisces' bad habits
Water-bearers get into the habit of creating completely self-sufficient lives. Unfortunately, this makes it difficult for you to achieve intimacy. Basically, Aquarians are afraid that relationships will compromise your independence. Fortunately, you folks love to experiment. By treating intimacy as an exercise, this horoscope sign can relinquish control for the sake of loving relationships.
Flaunt it! The first date outfit for Pisces
It's all about the shoes for you, Pisces. As long as you're sporting a pair of killer heels or sexy, strappy sandals -- or even low-slung heels with cute flower detail -- you'll be at your best. Your date may not be able to look away from your dreamy eyes, though, when you accent them with turquoise or purple shadow and wrap a soft, matching scarf around your neck. Dress in fluid fabrics like silk and chiffon, and accent with jewelry that makes good use of ocean colors, like turquoise or topaz. Keep your love life on track with more insight from a Relationship Potentials reading now »