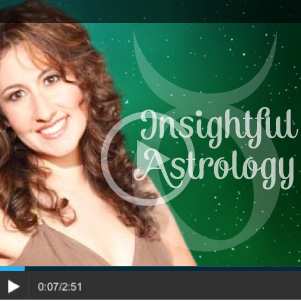 Your Weekly Horoscopes are getting a makeover!
We want you to be the first to know about some exciting changes coming to your video horoscopes!
After seven years of producing Weekly Video Horoscopes, the Weekly format will be transitioning into a new, in-depth Monthly format. That's right Monthly Horoscope Videos, custom to your zodiac sign -- coming SOON! These new videos will be available on your sign's monthly horoscope over on Tarot.com.
Really need insight for this week specifically? Fear not! You can still get weekly insight right now from your:
• Hearts & Hates Weekly Horoscope
• Weekly Love Horoscope
Maria explains this change here:
Go beyond the week and learn more about Taurus!
Keep it quiet: Taurus and keeping secrets
It's painful for you to keep secrets, as you prize honesty above all else. But if someone tells you something in confidence, you will not repeat it. You're slow to share your own dark secrets, so you respect others' privacy, too. Surprise birthday parties are a piece of cake for you to keep under wraps. Stickier ethical dilemmas, like whether or not to share a child's secret confession about parental abuse, could keep you up at night, though.
Balance the books: Managing money for Taurus
You're a born money manager, Taurus. It gives you great pleasure to cultivate a fortune, much like you would a garden. In fact, sometimes you enjoy saving money more than spending it. Because you're ruled by luxury-loving Venus, though, it's important for you to make an occasional splurge. Get into the habit of buying yourself a small gift each month, whether it's a box of gourmet chocolates or a bouquet of fresh flowers. Get more advice regarding your finances and investments from a Financial Celtic Cross Tarot reading here »
Play it up: Taurus' favorite board games
Taurus' favorite hobby is accumulation. Money is your favorite thing to collect, of course, but property and possessions are a close second. So what board game could you possibly enjoy more than Monopoly?! It allows you to amass property, businesses, even entire neighborhoods.
Waste some time: A guilty pleasure for Taurus
You are solid and steady, and you dislike being the center of attention. But there is a contrarian streak in you, Taurus, and a love of mixing things up without drawing attention to yourself. Your guilty pleasure might be to play devil's advocate on a controversial issue. Seek out a prominent political website or blog and jump in the discussion -- anonymously -- as you take an unpopular standpoint. Then watch as the Web responds and the conversation gets fiery! This is surely a nice escape for your Earth sign self, and you'll delight in rocking the boat without taking center stage yourself.
Save the world: The Taurus superhero
Taurus is known for being stubborn, which also indicates the kind of sheer determination and willpower demonstrated by Hal Lantern and the intergalactic crime-fighting force we know as the Green Lantern Corps. Just like all pleasure-loving Bulls, each member of the Green Lantern possesses a power ring and a power lantern that gives them control over the physical world.
Cut that out: Breaking Taurus' bad habits
Bulls love clutter. Being surrounded by all your possessions gives you a sense of security. It also creates headaches, confusion, and chaos. Storage systems that keep your stuff on display will prevent you from strewing things all over the house. Stacking baskets, glass jars, and open shelving can promote organization.
Flaunt it! The first date outfit for Taurus
You're down-to-earth, Taurus, but you also appreciate the finer things in life. Show your sensuality by wearing luxurious, touchable fabrics in the colors of spring, your birth season -- but go easy on the glitz and glamour. Try a supple jersey-knit blouse in a sensuous print paired with nice jeans and basic heels. Or top a dressy pair of jeans with a low-cut blouse, and wrap a long, cashmere scarf around your lovely neck. Keep your love life on track with more insight from a Relationship Potentials reading now »