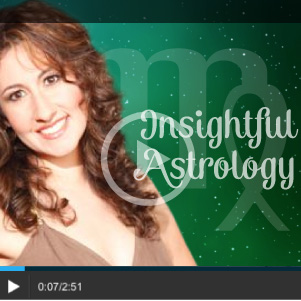 Your Weekly Horoscopes are getting a makeover!
We want you to be the first to know about some exciting changes coming to your video horoscopes!
After seven years of producing Weekly Video Horoscopes, the Weekly format will be transitioning into a new, in-depth Monthly format. That's right Monthly Horoscope Videos, custom to your zodiac sign -- coming SOON! These new videos will be available on your sign's monthly horoscope over on Tarot.com.
Really need insight for this week specifically? Fear not! You can still get weekly insight right now from your:
• Hearts & Hates Weekly Horoscope
• Weekly Love Horoscope
Maria explains this change here:
Go beyond the week and learn more about Virgo!
Keep it quiet: Virgo and keeping secrets
Since your natural modesty prevents you from blabbing your own dark secrets, you consider it your duty to honor others'. You likely would never agree to keep secrets concerning illicit activities. But if it's a private matter, you'd respect the other's request to not tell anyone. And once you give your word, you will do everything in your power to keep it.
Balance the books: Managing money for Virgo
You probably know exactly how much you have in your bank account, Virgo, right down to the last penny. You get the most pleasure from your wealth when you follow it closely and stick to a budget. You also like to get the most for your money, so you do price comparisons before buying anything lavish. You've got a secret weakness for natural fibers, handcrafted items, and organic food; don't deprive yourself of these pleasures. Get more advice regarding your finances and investments from a Financial Celtic Cross Tarot reading here »
Play it up: Virgo's favorite board games
Virgos are the most precise of all -- so only the most cerebral, meticulous games will appeal to you. Dominoes, which involves laying down tiles in an exact mathematical order, keeping track of what's been laid and what's been played in your mind, and distracting your opponent from doing the same is perfect. With that brain, you can win at any game -- but this is the one game that will prove to everyone how good you really are.
Waste some time: A guilty pleasure for Virgo
If you work full-time, then you'll have a few sick days coming to you. So why not call in well for once? Take a mental health day. Don't do errands, don't be productive, simply be. And because you're also the frugal sign, be extravagant for once! Embrace your health-conscious side by treating yourself to a Wednesday at a spa, getting pampered, and not crossing a single thing off your to-do list.
Save the world: The Virgo superhero
With his inherent reliability and critical eye for detail, Robin is the ideal Virgo choice to assist Batman in fighting crime. Virgos are known for their smarts and their dark sense of humor, which are both evidenced by Robin's need to do the right thing and his love of perfectly-timed puns.
Cut that out: Breaking Virgo's bad habits
Sometimes you compromise your own pleasure for the sake of perfection. Deep down inside, you're really a sensualist at heart. You need to learn that it's better to feel good than to look good. Allocating a few minutes each day for fun but messy activities like baking or painting can cure you of your fear of filth.
Flaunt it! The first date outfit for Virgo
Make a lasting first impression by dressing in crisp, chic clothing that conveys your straightforward but sophisticated nature. That might include a short plaid jacket in shades of green and brown evocative of your autumn birth time, with brown jeans or an earthy-colored simple skirt and soft top. Or show your commitment to a green lifestyle with a cotton knit dress or organic cotton t-shirt over vegetable-dyed jeans. Keep your love life on track with more insight from a Relationship Potentials reading now »