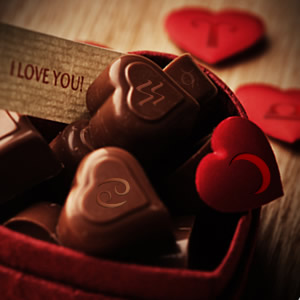 There's a sentimental mood in the air this Valentine's Day with the Moon entering the old fashioned sign Cancer early in the morning. Traditional gifts and activities are going to be appreciated because they represent the security that love brings that is so needed right now.
Reminders of the past will be more appreciated than promises for the future. Going to a place where romance first began is an excellent way to reconnect to the roots of a relationship. Favorite movies, restaurants and activities underscore the solidity of a partnership.
Doubts could dampen the mood with a lunar opposition to intense Pluto early in the day but the Moon's opposition to the love planet Venus in the evening can transform the darkest mood with an evening of delight.
Aries
Don't let enthusiasm or impatience get the best of you because going too far or too fast can undermine the romantic atmosphere of this special day. Instead of putting on a big show or going to a fancy restaurant, there's nothing like a home cooked meal for supporting an emotional connection now. The Moon is in your 4th House of Domesticity today, putting an emphasis on sharing intimate feelings in a private place rather than spending precious time in a public place. Reminiscing may not be your style but reconnecting with the past has a special power to evoke powerful feelings that remind you how special love is and why it's worth working so hard to keep it alive.
Taurus
You don't have to go very far to make some magic happen today. The Moon in cuddly Cancer is moving through your 3rd House of Short Trips. Finding a quaint and quiet place in your neighborhood will provide an ideal atmosphere for getting closer to the one you love. Conversation is especially important with the Moon in this chatty part of your chart. Sharing intimate thoughts and feelings can make you vulnerable but that's what deepens a relationship. Listening is equally important, especially when you are supportive of your partner. This isn't a day to solve practical problems or to escape in romantic fantasy. It's a time to appreciate the joy of simple sharing with someone you love.
Gemini
Don't overload your Valentine's Day with too many activities. The Moon is in protective Cancer now, which prefers simplicity and comfort to excessive stimulation. Save your interest in a trendy new place for another time because the lunar message is that old fashioned stuff touches hearts powerfully right now. This is also a day when listening counts more than talking unless you're digging deep into your soul and sharing the kind of personal stuff that puts tears in your eyes. Emotion isn't easy to put into words, especially when it comes from the heart. Let your face show how you feel instead of getting bogged down in wordy descriptions that aren't nearly as expressive.
Cancer
The emotions associated with this romantic holiday may be especially strong for you this year. The Moon is in your sentimental sign, which can lead to a breakout of tears at any moment. They can be associated with memories of days gone by or of a lost love. Whatever it is that's pushing your buttons, it's time to step out of the history books so you can put those feelings into the present. Plan to make this a special occasion, with a home cooked meal or going to a familiar place with a special person. Safety and security, though, may be more important to you than a splashy event with an unreliable person. Trust is absolutely necessary for you to open your heart now.