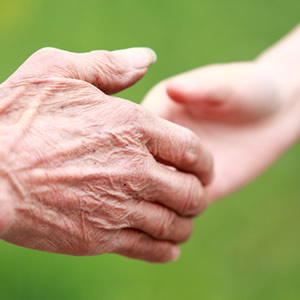 With all that's happening in the world right now, and the amount of support rushing in toward Japan, it's pretty overwhelming to witness such disaster on one hand -- and such a sense of mankind on the other.
This dichotomy can truly produce tangible results, and it feels so good to give back when others are in need. And since we're talkin' Karma here -- well, Karma will always come back to reward you when you lend a helping hand.
Here are 5 karmic tips to keep in mind while reaching out to others:
1. Do your research
First off, if you're thinking about helping someone directly, or donating to an organization, you should feel very proud of yourself. Helping someone is usually a voluntary act, and sometimes it takes stepping outside of oneself to not only want to help, but to put that want into action. Before you do though, make sure you have all the information you need. Charity scams are all too common, and the last thing you want is to donate your money to a fake organization that's taking advantage of good hearts.
2. Get social
If you're going out of your way to help someone, or help a cause, chances are you feel strongly about what you're doing. Consider taking advantage of the sheer power of social networks. Facebook and Twitter make great outlets for communication, whether you're sharing your personal opinions, or even more importantly, sharing pertinent information that will help bring awareness to your cause. Post links, stories, images, quotes -- the possibilities are endless in the online world, and you just may garner even more support from strangers and loved ones.
3. Do what you can, do what feels right
"Every little bit counts" may sound like a cliché, but it's not. Sometimes, people decide against helping because they only have so much free time and they assume it's not enough -- or they feel their donation isn't enough. But just think -- for every ten people who feel insecure or blasé bout the ten dollars they're able to donate, that's $100 less for that cause, and that's $100 that could have been put to some amazing use. Ignore any feelings of self doubt when it comes to helping, because it's personal strength that should be celebrated.
4. Stay informed
You can always do your part and move on, knowing that you helped. But remember, donating your time, your emotions and your energy is all part of your Karma, and in turn, part of the Karma of whatever cause you've helped. Your efforts are now part of someone else's story. Even when life goes back to "normal" and you get caught up again in your personal day-to-day, consider keeping this issue close in your mind and heart. Watch the story unfold. See how your positive actions are affecting the lives of others and remind yourself of all the good that you have done.
5. Spread positivity
It's easy to get so caught up in a certain cause that your first instinct is to rant and rave about the injustice taking place. Passion is an amazing feeling, and it's natural to want others on board with you -- and be angry when they're not. So spread a feeling of empathy by providing others with information and inspiration, rather than a feeling of fear. Positive thoughts released toward the cause will create positive karmic energy around those involved on both sides -- those who lend a hand, and those who receive one.
If you'd like to donate to Japan, go here for a list of organizations who are pledging their efforts.
If you like what you see on dailyhoroscope.com, please consider following us on Facebook and Twitter.