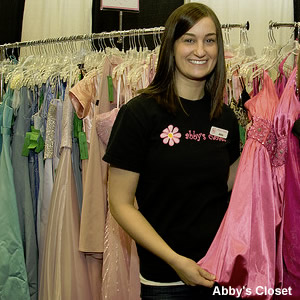 For every young woman who spends her high school career looking forward to prom as the sweetest night of her life, there's another whose excitement is tempered by social anxiety and sticker tag stress. But the good news is there is help to be had.
Local charities across the country are holding prom gown giveaway events starting this week, collecting dress donations from the public and offering them up for free in a show of karmic kindness toward teens.
One such non-profit organization helping out is Abby's Closet in Portland, Ore., where DH is headquarterd. All year long they have been collecting dress donations from women willing to part with their gently worn prom dresses, bridesmaid dresses, formal and semi-formal gowns.
We're inspired to share this news with you because we admire those putting forth huge efforts to relieve the anxiety prom can trigger in so many young women.
Prom should be a positive experience, not an angst-inducing occasion to worry about appearance or social status. By providing all young women with the means to feel special, Abby's Closet and other generous souls are earning good Karma points for inspiring confidence and respect in so many young women.
High school girls are invited to the Abby's Closet 2011 Prom Gown Givaway Event in Portland on Saturday, April 2 and Sunday, April 3 at the Lloyd Center DoubleTree Hotel, but if you can't make it to PDX it's quite possible a similar event is taking place in your own community.
We found the Princess and the Prom Dress Giveaway event in Connecticut March 24-27; the Princess for a Night Prom Dress Giveaway on March 26 in Indiana; the Dream Dress giveaway in Virginia on April 2; and the Eastside Community Ministry Prom Dress Giveaway in Southeastern Ohio on April 4.
That's just to name a few, so Google before you go to find other prom dress giveaways in your area. Nip that dress stress now!
And tell us, what did you love most about your prom?
If you like what you see on dailyhoroscope.com, please consider following us on Facebook and Twitter.