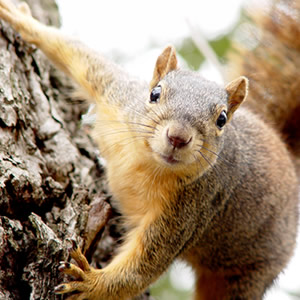 Our good Karma mission here at DH extends to the animal kingdom, and this week we've got some heartwarming and heartbreaking highlights to share.
Among the pets making headlines this week were some very good squirrels and one very bad one, the return of a missing monkey, a devastating story about the murder of three wild horses in Oregon and a plea to help pet rescue efforts in Japan.
Here are the animal stories that moved us most this week:
Baby squirrels survive Oklahoma wildfires
Smiles are all around the town of Harrah, Okla. this week as news spreads of two baby squirrels who survived a wildfire miraculously, even though the tree they clung to was burned to a crisp. Their whiskers and tails are singed, but the cute critters are doing well in the care of a local resident. Get the complete story, plus photos and video of baby squirrels who survived the fire from KFOR-TV.
Vicious squirrel attacks people in Vermont
Unlike the baby squirrels inspiring smiles in Oklahoma, a mean squirrel is terrorizing a few citizens in Bennington, Vt. According to WCAX-TV News, a large gray squirrel leaped onto the back of Kevin McDonald three separate times while he was shoveling snow in his driveway. It clawed and scratched him, and since then it's also attacked two of his neighbors. "This wasn't an accident, this was an attack," McDonald told WCAX. Read more about the vicious Vermont squirrel attack on WCAX-TV.
Monkey Love in Tennessee
In decidedly happier animal news, a missing monkey and her owner were reunited this week in Knoxville, Tenn. Delliah, a 46-year-old Capuchin monkey, was separated from her owner when someone broke into their home, and Delliah fled and climbed up 30 feet into a tree. The owner had been looking everywhere for Delliah, so this is one feel-good pet story with a happy ending. Read more about this monkey business from WATE-TV.
Wild Horses Shot and Killed in Central Oregon
This week's most heartbreaking and enraging story comes out of Prineville, Ore., where authorities are investigating who shot and killed three wild horses – one of which was pregnant and accompanied by a year-old foal, thankfully found unhurt. When authorities found the body of the pregnant mare, her foal was nudging her and trying to get her back on her feet. "It was determined that all three horses had been shot and killed with a firearm for no apparent reason," Det Sgt. Travis Jurgens told KTVZ-TV in Bend, Ore. Investigators are asking for help from the public to find out who is responsible, and animal lovers and organizations including the Humane Society of the United States are offering cash rewards for information leading to the arrest of the persons responsible. If you want to help, read more about the senseless shooting of three wild horses by KTVZ-TV.
Pet Rescue Efforts Continue in Japan
As rescue and recovery efforts continue in Japan, we must not forget all the pets left behind, too. Headlines and videos show so many dogs and cats wandering through rubble, searching for food and their families -- who have either fled, perished or become separated in the chaos. Just watch this heartbreaking video of a dog in Japan who refuses to leave his companion's side. One website earning good Karma honors goes to "No Kill Nation," which is attempting to connect people and animals in Japan and shows us how to donate and help out. Read more and get involved with pet rescue efforts in Japan.
If you like what you see on dailyhoroscope.com, please consider following us on Facebook and Twitter.