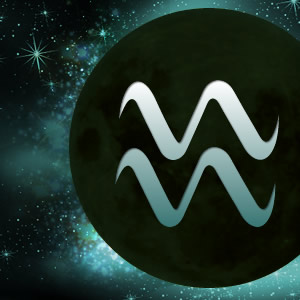 After the intense eclipse period we've recently been through, the February 3 Aquarius New Moon is a breath of fresh air! Your hard work or sacrifices are about to pay off, as the Sun and Moon join motivational Mars in the most progressive sign of the zodiac -- sparking breakthroughs and freedom.
Aquarius favors community activities, social causes and technological advancement. Now it's time to launch that website or join a group and work together for change. How might this assertive New Moon affect you personally?
Aries (March 21 - April 19)
A new vision of your life arrives at this New Moon, Aries. As your ruler, Mars, joins the Sun and Moon, you're motivated and ready for change. Friends and colleagues are eager to help make your dreams come true; don't hesitate to call on them. Though you tend to be a lone wolf, you'll be surprised how far a team effort will take you now.
Taurus (April 20 - May 20)
You're breaking out of the starting gate with your career at this New Moon, Taurus. Now's the time to implement your vision for advancement, whether that's in your current profession or one that suits you better. Others will respond if you take the lead. Though it may not be your usual style, being decisive and assertive will pay off.
Gemini (May 21 - June 20)
It's time to shout your message from the rooftops, Gemini -- people will be listening at this New Moon! Whether you're blogging, publishing or sharing your knowledge in some other way, the world is ripe for what you have to share. You're also apt to feel the urge to learn something new or travel to unfamiliar places -- go for it!
Cancer (June 21 - July 22)
There's an amazing transformation taking place within you at this New Moon, Cancer. You're shedding your old skin like a snake, and slithering forth into a new life. This death-and-rebirth process has been building for some time and is not over yet, but now you have the momentum and support to bust through obstacles and make progress.
Leo (July 23 - Aug. 22)
You're partnering up like crazy at this New Moon, Leo. Friends, family and significant others join your team as you achieve cooperation by inspiring people, rather than forcing any issues. It's your live-and-let-live attitude that brings out the best in others now, and helps you forge agreements and plans to benefit the common good.
Virgo (Aug. 23 - Sept. 22)
You're serving your community in spades at this New Moon, Virgo. That's nothing new for you, but the degree of activity you're devoting to work and service is over the top. Luckily you've got the energy for it, and can really make a difference now. This includes improving your own health and getting your fitness plan back on track.
Libra (Sept. 23 - Oct. 22)
You're the party girl or boy du jour at this New Moon, Libra! With so many invitations to choose from, let your desires be your guide. Romance could bloom in an existing friendship, or you and your mate set sparks alight just by doing the things you love to do. Launching a creative project, website or fun event is auspicious at this time.