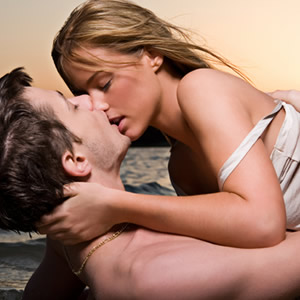 This ain't your average back-to-business Monday. Hot on the heels of the the sexiest weekend of the year, love planet Venus makes a sexy conjunction to Mars in the sensual sign of Taurus that will keep the pleasure principle forefront as we start the work week.
If you're trapped in the office, be sure to take a loooooooooooong lunch break with your lovah, or clear your evening for romance. When Venus conjuncts Mars it arouses strong desires and indicates physical passions will peak, and this is even more true when it happens in lovestruck Taurus. Do what you can not to miss out!
Even better news, this transit also bodes well for singles, who may find themselves more assertive about seeking love. So even if you don't have a love interest this morning, you may by day's end. Aw, sweet!
Get more details in astrologer Maria DeSimone's latest blog about the sexiest time of the year, and why Earth and Water signs will get an extra boost of pleasure -- perhaps even experiencing a fated love encounter!
If you like what you see on dailyhoroscope.com, please consider following us on Facebook and Twitter.