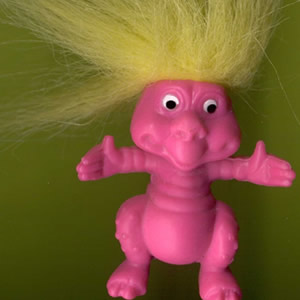 You know that mean-spirited, downright bitchy and critical inner voice that's holding you back? It's time to shut it down.
"I would be terrible at that."
"You're so stupid!"
"No one likes me."
We all fall into the trap of negative thinking sometimes, but we here at DH are cheerleaders for positivity because we know it's the most winning attitude you can have. We're not into a lot of self-help mumbo jumbo, but we do feel it's our duty to investigate things we can do to silence our inner critics.
As with most self-improvement challenges, awareness is the first step. And that's where Astrology can help. We spoke with our Master Astrologer Rick Levine to find out if some horoscope signs are more prone to negative thinking than others, and if clues in your birth chart can help shine a light on things to watch for, like low self-esteem.
"There are many factors that might influence our self-esteem, and the 2nd House of Self-Worth is one of them," Levine said. "I would look for hard aspects -- conjunctions, squares and oppositions -- between Saturn and the Moon, Saturn and the Sun, and Saturn and Venus. Etymologically, 'Saturn' is 'satan,' but without the Judeo-Christian value judgment of 'original sin.' So Saturn isn't always 'bad,' but it is judgmental."
Levine explained that those with strong Saturn aspects in the 2nd House of their birth charts may have very strict parents who expect a lot from them as children, and that can have the effect of conditioning them to feel that nothing they do -- on the job or in a relationship -- is ever good enough.
Look for harsh Saturn-Venus aspects
And if you're one of those people who always have trouble in relationships because you're constantly feeling insecure, Levine says to look for a harsh Saturn-Venus aspect in your chart. "This suggests that love must be earned and that we're not worthy of it, or it's not worth the hard work it requires because we end up getting hurt in the end."
As for whether or not certain signs are more prone to hearing that snarky voice of the inner critic, Virgos and Geminis -- or having planets in those signs -- may have a few more issues to work through than others -- but every sign has its challenges.
"Virgos can be more self-critical," Levine said. "But don't forget that Geminis can be just as hard on themselves if they think they're not clever or charming or easygoing enough."
So what do we do with all this information? How can we use it to help block negative thoughts and train our brains to think positive?
Levine reminds us that being aware of our vulnerabilities and accepting them can actually make us more lovable -- and therefore more loving of ourselves, too. And as we grow to love ourselves more, the inner critic quiets down.
"Every sign has its shadowy, self-critical side," Levine said. "If anything, Astrology can help us see our humanness. We all are limited by who we are, yet if we aren't overly self-critical these shortcomings can also be our vulnerabilities, which make us more loveable. And without some self-criticism, we don't strive for excellence."
Ok, so repeat after us (and if we sound like we're channeling Saturday Night Live's Stuart Smalley, sorry, but he was on to something): "I'm good enough. I'm smart enough. And doggone it, people like me!"
Now get out there and strive for excellence!
Find out what planets are in your 2nd House of Self Worth! Get your Essential Birth Chart report from Tarot.com.