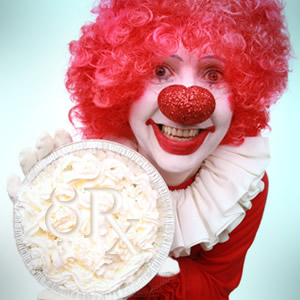 You might be prepared for April Fool's Day, but are you ready for Super Fools' Day?! With Mercury Retrograde in Pisces over April 1, 2012, we're expecting more mischief this year than on your typical April Fools' Day.
Mercury Retrograde is known for causing things to go wrong in even the best of times, so with people out playing pranks and tricking each other on purpose, it's pretty likely the trickster planet will play a few pranks of its own.
What can you do? (Aside from stockpiling banana cream pies, that is.) Prepare!
This Super Fools' Day, think about the potential problems Mercury Retrograde in Pisces might cause and use extra caution.
For example, MRx in Pisces is a sensitive transit. Mental and emotional confusion are likely during this time, so it will be much easier to play a prank on a loved one now -- but also much easier to hurt their feelings. Think twice before you play a trick on your more sensitive friends and loved ones, because they might not take it so well this time.
It's also important to note the Moon will be in lively Leo this April Fools' Day, which provokes more dramatic behavior in general. This could prompt some overly enthusiastic pranksters to get carried away, so be on your guard. With such expressive energy put toward pulling pranks, things could get out of hand or maybe even dangerous.
Not only that, but you could make the biggest fool of YOU if you get too carried away by the day's enthusiastic energy. That's because the Moon will harmonize with radical Uranus and make a stressful aspect with trickster Mercury on April 1, stirring up trouble by prompting us to shoot our mouths off without thinking. Be wary of sharing too much information with others this day to avoid burning bridges or offending someone you care about.
Now that you're armed with information and prepared for the pranks to go awry and chaos to reign supreme, no one's going to make a Super Fool out of you, right?
Don't be a fool! Get smart insight with a Celtic Cross Tarot Reading from Tarot.com.