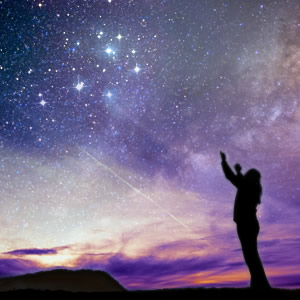 Happy Birthday, Universe! Wait, where do we send the card? And oh dear, according to Johannes Kepler we're going to need a cake big enough to hold 6,988 candles.
Today's Huffington Post reports that Kepler, the German mathematician and astronomer known as the founder of modern science, believed the universe was created on this day in 4977 B.C. Um, we guess this means the Universe is a Taurus?!
Kepler was a student of the works of Polish astronomer Nicolaus Copernicus, and later his own research was studied by English mathematician Sir Isaac Newton. So clearly the world values his theories explaining the motion of planets.
But whoopsy. The Huffington Post reminds us that scientists in the 20th century who developed the Big Bang theory say his calculations were off by about 13.7 billion years.
"This calculation is kinda irrelevant because it was based on the current view that God created the cosmos and Earth as told in the Bible," said Master Astrologer Rick Levine. "Remember, this was prior to Darwin and any notion of evolution as we know it." Levine says Kepler did, however, make valuable contributions to astrology, astronomy and music.
Of course, astrologers have their own theories about the birth of the universe, too. "I get how the Earth could be a Taurus, but not the universe because there would be too much travel involved," joked Master Astrologer (and fellow Taurus) Jeff Jawer.
Looks like we need to locate 13.7 billion candles. Now we really need a bigger cake.
Read more about the ongoing Astrology vs. Astronomy debate.
If you like what you see on DailyHoroscope.com, please consider following us on Facebook and Twitter.