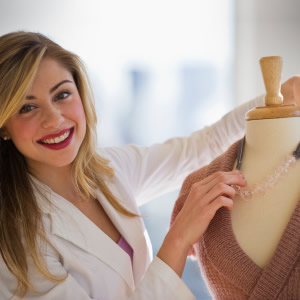 If you're planning to find temporary work during the holidays, it's time to start looking! Holiday shopping season is almost here, and those of us without much cash to spare will be scrambling for the best holiday deals. But the extra business means there are more jobs to go around!
So for those of you who need a second job to make ends meet, or for high school and college students looking to make a little extra dough during winter break, there's a position for you during the holidays. But what kind of temporary employment should you look for? Turn to your horoscope sign for the answer:
Aries (March 21 - April 19)
Whether man or woman, Aries is the tough guy of the zodiac. After all, somebody has to make sure customers don't walk out of the store without paying for their merchandise, or ensure the safety of mall patrons when somebody's had a few too many at Applebee's. Strut your stuff and flex your muscles with a job as a security guard this season -- don't let the recent Seth Rogen and Kevin James films deter you!
Taurus (April 20 - May 20)
With your love for Mother Earth, as much as you're against cutting down trees, Taurus will feel right at home selling evergreens for families to display in their living rooms for the Christmas holiday. You'd also delight in creating winter wreaths using twigs, dried flowers and other natural materials. And since the sign of Taurus rules the throat, you can use your silky voice to sing Christmas carols this holiday season.
Gemini (May 21 - June 20)
Gemini is ruled by Mercury, the messenger god -- and somebody has to deliver Santa's presents, right? Delivery services like UPS and FedEx often hire extra drivers or warehouse processors to meet the increased demand this season. And since you like to chat, any type of customer service job will also keep you stimulated.
Cancer (June 21 - July 22)
The holidays are nothing without food ... lots of it. And who loves to cook more than Cancer? Fortunately for you, the other 11 signs of the zodiac can be too busy or too lazy to do much for ourselves this time of year. That means more catering jobs for you! We want cookies, we want cake, we want a holiday duck (or a vegan, wheat-free mock duck). When you nourish our bodies, you lift our spirits ... and line your own pockets with some extra cash.
Leo (July 23 - August 22)
As the brightest sign of the zodiac, Leo's job is to bring joy to shoppers during a dark and cold season. As a holiday greeter, you can utilize your warm presence to make new customers feel welcome -- with the goal of increasing sales, it goes without saying. Your sign is ruled by the Sun, so working as a lighting consultant would come easily to you as well -- somebody has to decide where to string all those bulbs!
Virgo (August 23 - September 22)
Nearly every gainfully-employed office worker wants to go on vacation the last two weeks of the year, which means companies are looking for temps to handle the workload left behind. Whether you want to be a receptionist or a janitor, Virgo's strong work ethic and organizational skills will make you an asset to any organization. And if you're really lucky, they'll see your worth and hire you permanently!
Libra (September 23 - October 22)
Beauty is your reason for being, Libra, so your aesthetic sensibility will be in great demand this holiday season as a window or tree decorator. After all, it's eye candy that often draws potential customers into a store, and the pretty decor inside keeps them visually engaged. But if you prefer to start smaller, gift wrapping is right up your alley -- you'll beam in the admiration you receive from the gift wrap-challenged when you hand over the most gorgeous gift one can imagine!
Scorpio (October 23 - November 21)
You like to be undercover, Scorpio, doing work that brings the hidden things to light. Although one would think that a secretive Scorpio has no place during the bright and cheerful holiday season, they'd be wrong. Many retailers want to make sure their employees are on the up and up, as well as providing good service to their customers. That's where you come in as a mystery shopper! Do your dirty work and you'll be on Santa's good list.
Sagittarius (November 22 - December 21)
Ho ho ho, Sagittarius! Who better to play a child's favorite star of the season, Santa Claus? You're large in spirit, worldly in nature and your optimism is contagious. Bringing hope and joy to children at the mall can also make you feel better, especially when there's minimal whining and temper tantrums. And if kids aren't your thing, try holiday sales. If anyone can convince someone to buy something their gift recipient won't need, it's you.
Capricorn (December 22 - January 19)
You're used to being king or queen of the hill, Capricorn, so if you're currently underemployed, why not take it literally? Resorts are often looking for ski instructors, snowmakers and members of the ski patrol to make it through the winter season. You're in your element, as earthy Capricorn marks the entrance of winter in the Northern hemisphere, and your authoritative presence makes you an excellent teacher.
Aquarius (January 20 - February 18)
Aquarius is one of those signs that doesn't dwell on their own selfish needs. There's a whole world out there in need of help, and you want to make life better for everyone. With your humanitarian nature and gift for mobilizing groups, this season is an excellent time to bring presents to children whose parents can't afford to give as much as they'd like. You're a Secret Santa, and we promise we won't tell!
Pisces (February 19 - March 20)
How are photography and tending bar related? Both jobs are in the domain of Neptune, planetary ruler of Pisces. You're talented with image-making, so taking photos of children on Santa's lap in their holiday best will help to preserve family memories. And as your sign also governs alcohol, mixing cocktails for the bar dwellers will help them survive their visiting families. On the rocks, please!
Look into your financial future with a Financial Bottom Line Tarot Reading from Tarot.com!