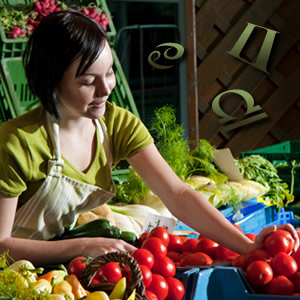 It's time to start looking for that perfect summer job! But what's it going to be? Don't just settle for any ol' thing -- think about what summer job would suit your horoscope sign best.
In summer days of yore, you'd find an outdoorsy Aries caddying at a golf resort. Or a Virgo would put her skills to work as a file clerk in an insurance office. Working these jobs -- along with flipping burgers at a fast food joint -- is a time-honored summer job tradition. But now thanks to web resources, you can also find work as a political intern in Washington, D.C. or a riding instructor in Germany. See what summer job suits your sign best.
Aries (March 21 - April 19)
Translate your favorite sport into a job, Aries, and you'll be a happy camper … perhaps literally! How about working in a surf shop or by the beach, or taking tourists on pedicab tours downtown? Walking dogs while catching some rays would also suit your active nature, as would being a river rafting guide, water skiing coach or gym instructor. Working in construction or on an organic farm would be good outlets for pent-up Aries aggression.
Taurus (April 20 - May 20)
You're a hard worker, Taurus, but you don't like to rush. Being a museum docent or giving walking tours of historic districts would satisfy your eye for beauty, and let you set the pace. Assisting in the ceramics department of a local college would let you get your hands in clay, which you love. You might also enjoy being a shampoo girl at a beauty salon or a sales clerk at a music store, grooving on your favorite tunes all day long.
Gemini (May 21 - June 20)
Put your communication skills to work this summer, Gemini, by editing a college course evaluation booklet or interning at your favorite magazine. You've got the travel bug, so you'd love teaching abroad. You're also good at juggling many things at once, so teaching a ropes course or being a barista at Starbucks would suit you fine. Working as a playground director at a recreation center would keep the kid in you happy.
Cancer (June 21 - July 22)
You're shy by nature, Cancer, so a job that's not too high profile would suit you best. Babysitting is a natural fit, as is being a camp counselor or working in a kitchen. You love antiques, so why not round some up and sell them on eBay or at swap meets? Being a personal assistant to someone with a fascinating job would work well for you. Or you could put your intuitive skills to work at a psychic hotline or a counseling gig.
Leo (July 23 - Aug. 22)
A glamorous job where you're front and center would ring your chimes, Leo. How about working at your favorite clothing boutique, where you can dress up? Or giving makeup consultations at a store like Sephora? You'd be thrilled making jewelry to sell at craft fairs, fronting a local rock band or being a technical aid for a theater production. Helping animals at the humane society or being a soccer coach would warm your heart, too.
Virgo (Aug. 23 - Sept. 22)
You want to make a difference, Virgo. Why not be of service this summer by answering phones or fundraising for an organization like AmeriCorps or UNICEF? Or indulge your love of healthy living by working as a clerk at Whole Foods, cooking tofu burgers at a vegetarian cafe or picking organic oranges to sell at farmer's markets. And, your tidy, methodical nature might enjoy cleaning houses or working as a bank teller.
Libra (Sept. 23 - Oct. 22)
Making things beautiful is a passion of yours, Libra, so flower-arranging, woodworking or being a jewelry lab technician would please you. So would selling art at a gallery or even painting houses. You also love to see justice done; why not try working as a wildlife advocate, legal aid or fundraising manager for Tobacco-Free Kids? And, a job writing reviews of clubs for a local city guide would satisfy your social inclinations.
Scorpio (Oct. 23 - Nov. 21)
You're a great manager, Scorpio, and quickly rise to a position of power in any office. You're also talented at problem solving and working with other people's money. Office work in a financial institution would be perfect for you. If you're looking for something more colorful, how about assisting a private detective, or doing prep work at a tattoo parlor? Aiding a midwife or an architect would satisfy your need to birth new things.
Sagittarius (Nov. 22 - Dec. 21)
A natural explorer, you'd love an outdoor job like being a kayak instructor or lifeguard at a summer camp, Sagittarius. Even better, you could intern in a vet's office in Romania or teach English in Japan. You've got a knack for promotion, so working in sales would suit you well … just skip the telemarketing to keep your karma clean! And, grooming horses or interning at a snowboarding magazine would be right up your alley.
Capricorn (Dec. 22 - Jan. 19)
Why not try out your entrepreneurial skills this summer, Capricorn? Develop a product and sell it at swap meets or online. Or apprentice yourself to a successful businessperson. Most Goats are good at math, so working in an accountant's office or as a math tutor or SAT coach would maximize your skills. You might want to feed your political aspirations by working as a lobbyist or fundraiser for your favorite candidate, too.
Aquarius (Jan. 20 - Feb. 18)
You've got a soft spot for the underdog, Aquarius, so working for a non-profit you believe in -- like Amnesty International -- would be just the thing for you. Or put your techie skills to work at a computer camp or even at NASA. An offbeat job like training dolphins at a marine park or dressing up as a cartoon character to entertain people at Disneyland would intrigue you. If all else fails, you can always become a science tutor.
Pisces (Feb. 19 - March 20)
Get as close to the water as you can this summer, and your fishy nature will be content. Give surfing lessons, be a bartender for Club Med or on a cruise line, or work as a song leader at a camp by the river. Your desire to help and heal would be served by a job in home health care or as a drug counselor. Your sign rules oil, so pumping gas or changing oil would work for you. So would giving dance lessons, since you're so good!
Get your Personal Career Advice report from Tarot.com!