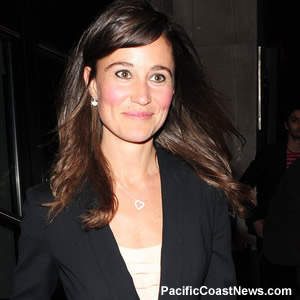 Way to go, Pippa Middleton! Nice job stealing the spotlight. All eyes have turned from the royal wedding to the royal sibling as Kate Middleton's sister makes headlines this week with some scandalous photos of Pippa partying in her bra with a half-naked man.
Pippa, who are you?! The world wants to know. And the world also seems to want you to hook up with Harry, Prince William's hard partying baby bro. Let's take a look at the Astrology of Pippa Middleton, and how a hookup with Harry might go.
Born Philippa Charlotte "Pippa" Middleton on September 6, 1983 in Reading, Berkshire, England (time unknown) Kate's younger sister has three planets in Virgo, with the Sun, Moon and Mercury all falling into the hardworking, detail-oriented sign of the Virgin.
This certainly offers more insight into Pippa's public profile, and explains her talent as a party planner who must be highly organized, but it doesn't so much explain the partying Pippa we keep hearing about.
But wait -- Pippa's love planet Venus and action planet Mars are both in attention-getting Leo! Now that adds the dash of bold outrageousness we know and love. Add to this three more planets in adventurous Sagittarius, and we've got a cosmic profile that perfectly explains her ability to balance royal traditions with having a royally good time.
The only person having a better time is Prince Harry, who many think would make a great match for Pippa. But hopeless romantics may have to wait for such a union -- Pippa is reportedly dating former cricket player Alex Loudon, and Harry is still with his longtime girlfriend Chelsy Davy.
That's probably just as well, because a love compatibility report between Pippa and Harry shows a mixed bag of negative aspects. It's true that Harry is a Virgo like Pippa and has similar Sagittarius energy coming from his action planet Mars, but it could also be a case of the two being too much alike to make it work.
In a theoretical relationship, Harry might try to dominate Pippa, which she would obviously have none of. Or the two together could find themselves caught up in a relationship more about fantasy, escape and partying than being grounded or lasting.
Our two cents? Keep on partying, Pippa, the world loves to watch! Just leave Prince Harry out of it.
If you like what you see on DailyHoroscope.com, please consider following us on Facebook and Twitter.