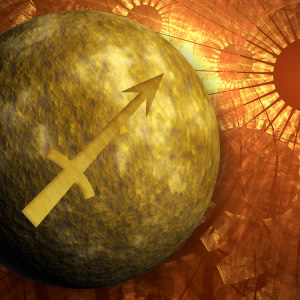 Mercury enters Sagittarius on November 5, 2017 -- but the communication planet has mixed feelings about being in this adventurous sign! It is a very interesting placement, with the potential to wield a lot of power...
Expansive Sagittarius can be overwhelming to detail-oriented Mercury. It's much more abut reasons and ideas than actual words, and verbal communication may lash out in the form of outspoken beliefs, talking before thinking and being a little too honest. Small things are easily blown out of proportion. Facts are out of whack. Tall tales abound. Yet, this is also when the lens of perception is widened and the mind opens.
Mercury in Sagittarius is the perfect time to consider your beliefs, and the fact you may have different ones than you've ever expected. Be truthful, but not rude; take care of your words and explore your imaginative side. You just may learn something new about yourself!
Your more adventurous side may also emerge during Mercury in Sagittarius. Get your kicks and take whatever journeys may be hanging on your mind, whether it's a new job, new romance or a trip you've wanted to take -- you'll be more positive and confident in these experiences now, anyway.
Sagittarius looks toward the future, so that perceptive Mercury's presence here supports visions of tomorrow. The trick is to fill in all the details so that the picture you're selling is the one that actually develops.