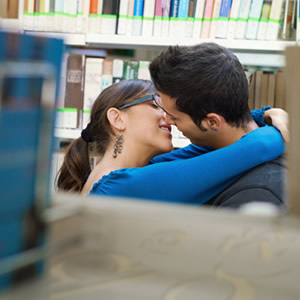 Most college students head back to campus with their brains on the books... and many with their brains on dating, of course. But where on the quad will you meet your match? You probably have a good idea of which horoscopes signs you are likely to get along with, so now all you have to do is find them!
The best places to look are groups and activities they enjoy. Here are some suggestions for campus locations where you just might meet your next special someone. (But don't let it distract you from your studies, of course!)
Aries (March 21 - April 19)
If there's an entrepreneurs' or inventors' club on your campus, you're sure to find a few pioneering Aries there, getting fired up about their latest and greatest ideas. Or try your campus fitness center, especially if it has a rock-climbing wall. Rams will be all over that!
Taurus (April 20 - May 20)
Taureans love luxury and the good life. How are they going to get it? Money of course! Look for these lovable bulls in financial clubs. Or you might find them singing in a campus choir or at a karaoke bar. Taurus rules the throat, so they often have melodious singing voices.
Gemini (May 21 - June 20)
Walk over to your campus library and make a beeline for its periodicals center. That's where Geminis love to hang out, with their noses buried in gossip columns. These playful busybodies love to amuse their friends with their take on the latest celebrity escapades. Be sure to laugh at their clever witticisms and stories!
Cancer (June 21 - July 22)
Who has the coziest rooms in the dorm? Cancers, of course. These homebodies love hanging out in their own digs, surrounded by friends sprawled out on their cushy pillows. Invite yourself in and ask for help spiffing up your room. They'll tell you about the best shops in town -- and probably go with you.
Leo (July 23 - Aug 22)
Walk into any frat party and look for the center of attention. Most likely, it's a Leo entertaining a circle of admirers with a string of heart-felt stories. You'll have to catch your lion in a rare moment alone to get his or her undivided attention ... but when you do, you'll have a loyal friend 'til the cows come home.
Virgo (Aug 23 - Sept 22)
Since Virgo rules health, these industrious souls are often attracted to pre-med courses. Their meticulous natures are well suited to working on precise experiments in science labs where they thrill to the sight of microorganisms skittering across petri dishes. Distract them with your bright smile.
Libra (Sept 23 - Oct 22)
Libras love to weigh pros and cons ... so naturally they are attracted to law, philosophy and other disciplines that require their fine sense of justice. These friendly conversationalists are always ready to give you their perspective. Tap into their impartial wisdom.
Scorpio (Oct 23 - Nov 21)
When Scorpios channel their innate magnetism into the dramatic arts, watch out! Their intense, focused energy is seductive and alluring -- to say the least. If you find yourself falling in love with your campus theater's leading lady or man, chances are you have been stung by a Scorpion's exotic allure.
Sagittarius (Nov 22 - Dec 21)
Sagittarians are all about doing things in a big way, so any adventure sports club is sure to attract these Energizer bunnies. Travel is always on their minds too, so look for them in your campus intercultural center, or try one of your travel clubs. The language lab is another good bet.
Capricorn (Dec 22 - Jan 19)
Capricorns are deep thinkers, willing to put consistent energy into what they believe in. If your campus has a chapel, you might find a Cap deep in prayer any day of the week. Or try joining a spiritual study group. As you share your beliefs, you'll find a like-minded soul mate.
Aquarius (Jan 20 - Feb 18)
Any think tank for progressive ideas is a good place to look for these visionaries. They're suckers for global issues, ecological endeavors and other cutting-edge trends. Aquarian ideals are usually uplifting ... so hop on their bandwagon and enjoy the ride!
Pisces (Feb 19 - March 20)
Head over to your campus coffee shop for a poetry reading. That guy with the goatee on the stage could be your man. If you're looking for a female fish, keep an eye out for a flowing shawl wrapped around a tantalizing saunter. Take your Tarot cards along and offer your dashing poet or dreamy damsel a reading.
Learn more about your personal love life with a Love Celtic Cross Tarot Reading from Tarot.com!