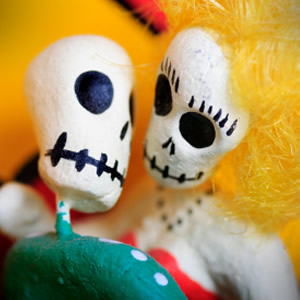 Halloween is upon us, and the Sun is still in Scorpio -- so that mysterious doorway to the otherworld remains open. This is why we now celebrate the Day of the Dead, or Dia de los Muertos, on November 1-2.
Originally a Mexican holiday, Day of the Dead corresponds with two Catholic holidays -- All Saints Day on November 1 and All Souls Day on November 2. Traditionally on these days families and friends gather together to honor the memory of loved ones who've passed to the other side.
It's no coincidence that these special holidays for honoring the dead occur during the Sun's reign in Scorpio, the most intense and mysterious horoscope sign. Scorpio is ruled by Pluto, Lord of the Underworld, which symbolizes everything that is beneath our consciousness.
Day of the Dead can also be traced to Samhain, an ancient Gaelic harvest festival marking the end of the lighter half of the year and the beginning of the darker half -- which of course always occurs while the Sun is in Scorpio. During Sahmain, as with Day of the Dead, it's said that the veil between worlds grows thin and we can more easily communicate with the spirit world and get insight and advice through divination.
Celebrations similar to the Day of the Dead take place all over the world now. In many places people build altars to deceased loved ones and decorate their burial spots with gifts, flowers, food and personal items to signify they are remembered and forever loved.