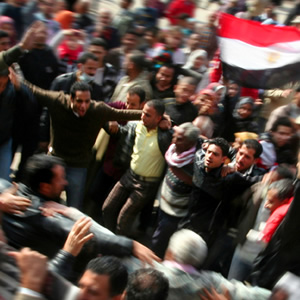 Tunisia, Egypt, Yemen, Iran, Iraq, Libya, Bahrain, Jordan… did we leave anyone out? It's hard to keep track of all the political unrest as it spreads across the Middle East, and we can't help but wonder what on earth is going on -- or rather, what in the stars is going on?
After watching the massive protests that ousted Tunisia's longtime dictator last month, the epic social media mobilization in Egypt that led to President Hosni Mubarak stepping down last week, and the protests that continue to erupt in the streets of Iran, Iraq, Yemen and Libya… we decided there was only one right thing to do: Call Rick & Jeff.
We got our Master Astrologers Rick Levine and Jeff Jawer on the horn to ask, why is all this happening now? Here's what they had to say:
"It's primarily associated with boundless Jupiter's presence in Aries and an especially explosive New Moon in Aquarius back on February 2," said Jawer. "Looking ahead, we can expect more change."
Oh dear.
Levine adds, "Jupiter's move into independent Aries on January 22 is closely followed by radical Uranus' move into Aries coming up on March 11, and it's setting up bursts of human expression, busting loose and the need for freedom."
True that.
Jawer and Levine both say we can expect to see more political upheaval in the months ahead, and that in fact this is all part of much global structural change that will continue through 2015.
It's interesting to note that the last time there was a Jupiter-Uranus conjunction in Aries took place in 1927-28, long before the Internet age -- and with it happening now in a world of high technology and social media, the spirit of rebellion that this aspect encourages becomes further exaggerated.
Levine also pointed out that with Jupiter and Uranus both forming intense 90-degree angles to Pluto in the serious sign of Capricorn, the stage is perfectly set for upheaval and transformation.
"Uranus and Pluto were also conjoined in 1965," Levine said. "That's what made the '60s the '60s."
Sounds like we can expect to see a new era of liberation movements starting now, and Jawer says we're just at the front edge of the coming changes.
"Egypt is the first ripple, but there have been signs, like the U.S. Presidential election in '08. These are just harbingers of the main event in the next few years."
Don't worry folks, we've got private access to the Rick & Jeff horoscope hotline, so we'll be sure to keep you updated as the upheaval unfolds.
If you like what you see on dailyhoroscope.com, please consider following us on Facebook and Twitter.