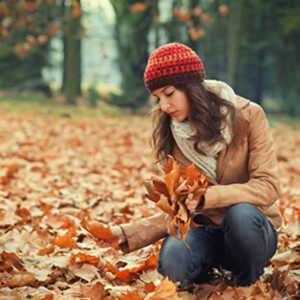 Autumn is a gorgeous season to be outdoors -- the trees are decked out in their gold-and-russet finery, and there's still enough Sun to ward off the chill. So, tear yourself and your loved ones away from the all-consuming black hole of electronic devices, and pay a fun visit to Mother Nature.
Where to go? Here are some ideas for fall outings and activities that will jumpstart your imagination, whatever your horoscope sign:
Aries (March 21 - April 19)
You like to be where the action is. Chasing storms out in the desert or another flat expanse would get your heart pounding -- just make sure you don't get too close! You could also take a fast-moving train or boat trip to enjoy the fall scenery and feel the elements whizzing by. Fall is a good time to run a marathon, as the weather has cooled down some. It would help you get in shape before all that holiday feasting, too!
Taurus (April 20 - May 20)
A long, slow drive to savor the season would be right up your alley. Plan an all-day or weekend getaway, with stops at favorite restaurants or new ones that you've researched online. As a destination, a hot springs would be fantastic -- you could enjoy a hike in nature, then soak for hours in healing mineral baths. You'd also enjoy visiting a picturesque town with lots of fun boutiques where you could stroll and shop for hours!
Gemini (May 21 - June 20)
Because your mind is so over-stimulated, autumn is a good time to chill out. An outdoor activity that focuses you completely on a goal -- such as rock-climbing or archery -- would clear and refresh your mind. Just be sure to leave the cell phone behind! An out-of-town film festival or wine-tasting tour would satisfy your need for variety and help you relax. If you're in good shape, a back-packing trip will really get you grounded.
Cancer (June 21 - July 22)
Get thyself away from the kitchen, and out into nature where you can drink in the nourishment of the elements. You could drive to the mountains, hike during the day, then bundle up in warm clothes and view the stars at night. Or, plan an outing to visit family who live at a distance, and have them guide you on a walking tour of the area. If possible, plan your trip for the Full Moon, when your energy will be high.
Leo (July 23 - August 22)
Horseback-riding would be an ideal autumn excursion for you. Imagine yourself galloping through the trees in all their splendor, as the wind whips through your hair. Anything that gets your blood pumping, such as mountain-climbing or skiing (if there's enough snow), would be good for both your heart and your spirits. If you need some motivation, be sure to reward yourself with a fine-dining experience afterward!
Virgo (August 23 - September 22)
Planting a pre-winter garden, perhaps as a family or community endeavor, would be a lovely autumn activity for you. You could also round everyone up and visit a local farm or harvest fair to enjoy the animals and stock up on goodies like fresh goat cheese and homemade preserves. You might try planning an excursion to a lavender field to gather blossoms for sachets, or going on a hike and gathering white sage to make into fragrant bundles.
Start the new season with a Life Cycle Tarot Reading from Tarot.com!