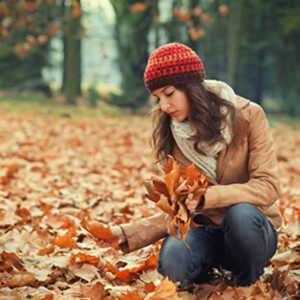 Libra (September 23 - October 22)
A romantic stroll down a wind-swept beach at sunset with a loved one would be your perfect autumn excursion. Or, take a trek around a beautiful lake and watch the ducks at play. A shopping expedition to a part of town that features clothing and home accessories from another country (such as Korea, Africa or India) would also be a fun outing when done in tandem. Treat yourselves to an exotic meal while you're there.
Scorpio (October 23 - November 21)
Getting away from time to time is essential for you. An excursion to the deep, dark woods would restore your soul this autumn. Go alone or with someone special, and commune in silence with the trees. Because your element is "fixed water," which translates to ice, why not visit an ice-skating rink for an extra-special adventure? The simple, down-home pleasure of a rodeo or outdoor concert should also please you.
Sagittarius (November 22 - December 21)
You love exploring unknown territory, even in your own backyard. This autumn, get out a guidebook to your city or a neighboring one, and plan outings to places you've never been before. Visit an observatory to see the constellations, an art museum to enjoy the latest exhibition, or go whale watching on a cruise ship. You could also go on a guided Sierra Club hike to learn about your local flora and fauna.
Capricorn (December 22 - January 19)
You love the past, so plan an excursion this autumn to an antique mall or open-air flea market to forage for treasures. Touring a local historical landmark or natural history museum would also satisfy the part of you that appreciates antiquity. You enjoy desert landscapes -- the vast expanses soothe your soul -- so why not plan a desert trek? Even better if you can add a trip to a local hot springs to soothe your weary bones.
Aquarius (January 20 - February 18)
Autumn is a wonderful time to participate in team sports, from football to Frisbee. Even getting out to the park for a game of croquet or swinging in a swing can make you feel like a kid again. Because you're interested in what's new and progressive, you could also participate in a tour of "green" homes in your area, or learn how to landscape with edible plants by taking a weekend workshop on permaculture.
Pisces (February 19 - March 20)
Visiting a marine park would be the perfect autumn outing for your watery soul, as would whale watching or sailing. If you're seeking something tranquil, spend a day at the spa getting pampered, then go out for a delicious fish dinner. If a high-flying adventure sounds more appealing, hot-air ballooning or hang gliding might do the trick. Going to an outdoor concert where you can dance your heart out would also be fun!
Start the new season with a Life Cycle Tarot Reading from Tarot.com!