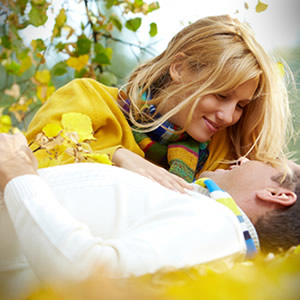 With so many things going on in the world and our busy lives during the autumn season, it's easy to forget what's really important. You won't want to do that this fall, though, because the planets' crazed ways of hooking up could actually make it a hot time for you -- and for love. Get the whole fall love story for your horoscope sign now!
Aries (March 21 - April 19)
Fall starts out with a bang and a lot of pitter-patter in the heart for you, thanks to a New Moon in your 7th House of Partnership on Sept. 27. Make a fresh start or a definite choice that will help you take advantage of Venus in amorous Libra through October 8. After that, life will become exceptionally warm and toasty as Venus ignites your 8th House of Sex and Intimacy through Nov. 2. Those lusty nights will make great insulation against cooling temperatures! If you're unattached, planetary effects could help you open up your heart and dive straight into the waters of love.
Taurus (April 20 - May 20)
You have a lot to offer, and now that Jupiter in your sign has put you in a very generous and outgoing mood, you'll want to share the things and the feelings you have at your disposal. Any partner who's lucky enough to come across you, including the one you might already be attached to, should be extremely responsive to every look, touch and caress you have to offer. If you're looking for a special date to celebrate, choose Oct. 26, when the New Moon in your 7th House of Connecting offers an opportunity to ignite the kind of passion that keeps all your highly elevated senses in balance.
Gemini (May 21 - June 20)
You might not start off the fall season feeling all that romantic, with stodgy old Saturn reminding you of what you want (and don't want) in a mate. Mercury's retrograde in your 7th House of Partnerships from Nov. 24 - Dec. 13 will encourage you to stop and smell the beautiful flowers of love, perhaps even from a past liaison. If you still feel distracted and disinterested come Thanksgiving, that should change when Luna, goddess of the soul, tag-teams you with a New Moon Solar Eclipse in Sagittarius and your 7th House of Partners on Nov. 25, and a Full Moon Lunar Eclipse in your sign on Dec. 10. By then, everything you thought about preferring to be free and easy could do a total about-face, and you'll be all goo-goo eyed in time for that New Year's kiss.
Cancer (June 21 - July 22)
Powerful changes about being part of a couple are shaking you up now, as Pluto continues to dictate the terms of your partnerships from your 7th House of Romance. It's hard not to feel as though you're being overpowered; so developing trust will become crucial. With Neptune moving retrograde through your 8th House of Intimacy, it's easy to get hung up on past disappointments. Let all of that go and take a leap of faith when Neptune pushes its cloudy self back into forward motion after Nov. 9.
Leo (July 23 - Aug. 22)
If you're already in a relationship, you might not be paying enough attention to your partner these days. After all, with Mars in your 1st House of Identity and your 2nd House of Self-worth, it's hard not to put most of your energy into individual efforts. If you want someone to come into your life, you can find lots of opportunities later in November. Venus and the Sun will be activating your 5th House of Romance and Dating from Nov. 22 - 25, so it looks like Thanksgiving will be the best time for you to focus on the give-and-take of a loving partnership. Be sure to show your gratitude!
Virgo (Aug. 23 - Sept. 22)
Your relationships haven't been what you'd call "normal" or "predictable" for some time now, thanks to the way the erratic effects of Uranus have swept through your 7th and 8th Houses of Partnerships and Sex. Although you like to think of yourself as intrinsically stable, right now you're feeling far more fly-by-night than you'd like to admit. If you're in a relationship, let it be known to your partner that you're going to need a lot more excitement than what the same old thing is going to bring. If you're looking for love, partners may come ... and then go. Don't pressure them, or yourself, for that matter.
Will you fall in love this autumn? Find out with a Life Cycle Tarot Reading from Tarot.com!