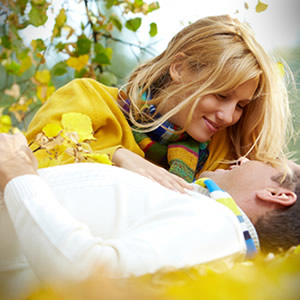 Libra (Sept. 23 - Oct. 22)
There's a good reason why you like the fall season so much! The planets always seem to align to enhance your attractiveness and bring you a bounty of love and romance as autumn leaves trickle to the ground. This year will be no different, as the New Moon in your sign inspires you re-make your image on Sept. 27, and romance-enhancing Venus graces your sign through Oct. 8. With Uranus in Aries, your taste in potential partners -- as well as your view of the one you're with (if you're already attached) -- could shift drastically. Remain open to all sorts of changes and you'll never be bored with the infinite possibilities before you.
Scorpio (Oct. 23 - Nov. 21)
You're probably already enjoying a great deal of good luck in your partners these days, thanks to the generous way Jupiter, in your 7th House of Partnerships, sends you a ton of great people to work and play with. Whether you and your partner have been together forever or you're at the foundation stages of building something meaningful, your life is infused with romantic bliss now. Since Jupiter is retrograde throughout the whole fall season, you may rediscover a love from your past, or rekindle passion you thought was lost.
Sagittarius (Nov. 22 - Dec. 21)
You're always trying to dodge the bullet that could potentially pierce your heart -- and tie you down! Even if you're in a long-standing relationship, you tend to enjoy it more when your significant other finds it necessary to give chase while you make your way through a grand adventure out in the world. With Uranus in your 5th House of Dating and Diversion this fall, you might not want to avoid commitment as much as usual, especially when you see the excitement romance has to offer. In fact, you could be the one begging your lover to spend forever with you by the time the Dec. 10 Full Moon Lunar Eclipse fills your 7th House of Relationship with a true, abiding love.
Capricorn (Dec. 22 - Jan. 19)
As far as you're concerned these days, things have to go your way, or they'll go no way at all. That could make it difficult to find the strong, independent (and low-maintenance) kind of person you wish to have as a partner. Suffice it to say, even that sweet helpmate who seems to be totally dedicated to your care and feeding could get fed up with your demands if you don't remain conscious of how forceful you can be right now. Soften your approach and embrace the deeply healing effect of Mars in retrograde motion from Nov. 10 into the New Year, as you find gentler ways to execute your philosophy of relationships.
Aquarius (Jan. 20 - Feb. 18)
With Mars traveling through your 7th House of Partnerships, there will be a lot of options for amour this fall. But it will be up to you to turn your experience into the kind you like to fantasize about when you let your mind wander in between brainstorming sessions. The people you choose as partners are usually strong and stubborn, but this season they could begin to seem impossible. If you're in a relationship, the increasing demands of the one you're with could put you off to the idea of being loving and giving. If you're on the market for a lover, expect to come across people who are far fiercer and feistier than you're used to. Rise to the challenge.
Pisces (Feb. 19 - March 20)
"Sexy" will be the word that most closely matches the nature of your thinking and behavior for this fall. You might have started out thinking about having a "good" partnership, but whether you're already taken or not, a New Moon in your 8th House of Intimacy on Sept. 27 will get you far more worried about how naughty you can get with someone than who's going to keep you warm in the long run. And Venus in this same, sexy sector will only make you more intent on physical pleasure. This doesn't mean you'll stray from a current love, but it can indicate a need to feel good from your dreamy eyes to your tingling toes! Ask for what you need.
Will you fall in love this autumn? Find out with a Life Cycle Tarot Reading from Tarot.com!