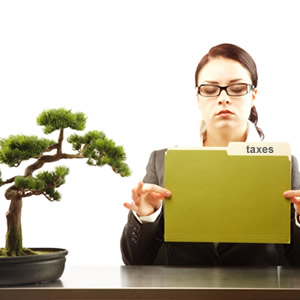 When tax time comes around, are you the plan-ahead type, or do you panic at the last minute? Regardless of your approach, Feng Shui can help you create the low-stress environment you need to tackle this important job.
Most of us dread buckling down to do what it takes to complete our taxes. It usually requires at least a half a day of gathering all the paperwork and then figuring out the forms or navigating tax software -- not anybody's idea of fun. But it can't be avoided, so the trick is to make your process as smooth, easy and error-free as possible.
That's where Feng Shui comes in. Your first step in preparing for tax day is to give your home office or desk area a once-over well in advance of the deadline (April 18, 2016). Sort through your stacks of papers, unopened mail or whatever else you've let go. Throw out or give away anything you don't need and make special places for items that tend to get strewn around. Clutter is always a big Feng Shui no-no because it blocks chi (positive energy).
Another Feng Shui rule is "less is more," so if your desk feels cramped, it's time to get rid of stuff. Make sure that chi keeps flowing around your finances to bring opportunities your way, so now's a good time to pare down and open up some space.
Once you've cleaned and de-cluttered your desk, spend some time organizing your paperwork. Use files and highlighters to separate income from expenditures. You may also want to do some research online and print out instructions or forms you need. Free tax software is now available via government sites, so if your taxes are pretty straight forward, you'll want to check them out.
If you feel over burdened by the complexity of your taxes, you may want to consult a professional tax preparer. But don't forget, it will still be up to you to present all of your information in an orderly fashion, so you need to get it together.
Increase Your Wealth Year-Round
Whether you are expecting a refund or writing a check for money you owe Uncle Sam, now's a good time to think about how you can increase the flow of wealth into your life year-round.
First, locate the southeast area of your home or office. This is your Feng Shui prosperity sector and a great place to create a small altar-like area where you can place special objects. Sprinkle some Chinese coins on your altar along with a water fountain to keep your abundance flowing. Objects like candles in groups of three also work well.
And since springtime is almost here, now's also a good time to spruce up the wealth sector of your backyard. It's also in the southeast. Whirligigs, windmills, wind chimes, weather vanes -- anything that spins -- will help attract positive chi. Plant some perennial flowers with red or purple blooms, lucky Chinese colors. For lawn furniture, use the three-grouping rule in this area as well.
Visualize Prosperity
One of the biggest parts of Feng Shui that is sometimes overlooked is adopting a prosperity attitude. Visualize what you want this year -- that may begin with a refund check, but your wider goal is to have abundant cash flow. Sometimes the negative financial news that dominates media these days can distract us, keeping us focused on our lack of money, which is counterproductive.
Instead, start focusing on your potential for attracting wealth. Feng Shui can help you create wealth only if you are open to it when it arrives, so take every opportunity this tax season to get your financial ducks in a row and welcome a new fiscal year of prosperity and abundance.
Get more personal tips with a Personal Feng Shui report from Tarot.com!