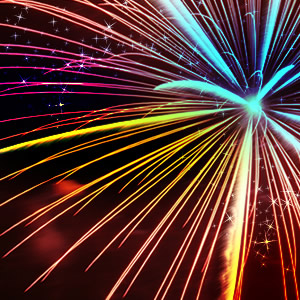 July 4th marks the first official holiday of the summer, and it's a good one! BBQs, parades and fireworks -- perfect for cozying up with a new love interest or partying with your closest friends. Make the most of this July 4th with your own horoscope style!
Aries (March 21 - April 19)
You're personality can be pretty explosive sometimes, so wherever the fireworks are, you're there. And if you're not too busy leading the parade, your competitive spirit would love to participate in a race or contest.
Taurus (April 20 - May 20)
A picnic or barbeque is your preferred mode of celebration, so this holiday is simply awesome. You appreciate the simplicity: burgers and apple pies, please! If possible, escape the crowds and enjoy a peaceful, natural setting.
Gemini (May 21 - June 20)
Dropping by as many parties as possible would make your day perfect your perfect, after the parade. After all, you couldn't possibly commit to just one celebration.
Cancer (June 21 - July 22)
Not only is Cancer is the sign of nation and homeland, but the USA's Sun sign! Your personal connection with this holiday runs deep. Close friends and family will be coming to your place to take advantage of all the food (and to see you, right?)
Leo (July 23 - Aug 22)
Face it, you're used to being the life of the party. Host a July 4th theme party, with Independence-Day decorations and all. It's called "patriotism," okay?
Virgo (Aug 23 - Sept 22)
Noises, crowds, messy food … admit it -- this probably isn't your favorite holiday. So, invite a friend or loved one to go hiking, or watch the fireworks from a peaceful – and SAFE -- distance.
Libra (Sept 23 - Oct 22)
Wolfing down burgers and chugging cheap beer? No thanks. You'll go for something a bit more elegant. Consider hosting your own barbeque, featuring gourmet versions of standard American fare.
Scorpio (Oct 23 - Nov 21)
Since you love people-watching, the parade is a good bet -- but you'll probably be happiest when nighttime falls and the light shows begin. Enjoy them with a one-on-one date or with a close friend.
Sagittarius (Nov 22 - Dec 21)
If the weather's good, take this long weekend as an opportunity to go camping or on a road trip. If you can't skip town, a long bike ride or hike will do the trick -- experience the freedom that this holiday is all about!
Capricorn (Dec 22 - Jan 19)
Okay, so you don't scream "summer fun," but even a workhorse like you needs a break sometimes. You'd probably prefer a low-key picnic in a beautiful spot could be the best way to celebrate.
Aquarius (Jan 20 - Feb 18)
As the sign of revolution, you truly honor the rebellious roots of your native land. So, keep it up! Boycott the parade and watch British TV instead!
Pisces (Feb 19 - March 20)
Since your ideal celebration takes place by the water -- the ocean, a lake or a pool party will do. Or, you might want to avoid the crowds altogether, and indulge your inner dreamer with a quiet spa day.
Take an in-depth look at your life with Horoscope Tarot reading from Tarot.com!