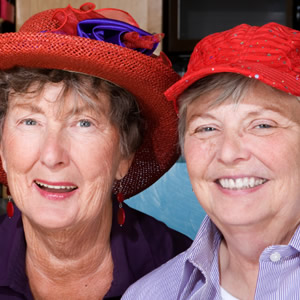 Even if you aren't one of them, you've probably seen them. Groups of women grabbing our attention with their bright red hats and purple pants. They show up all over the world, especially on a day like today, arm-in-arm, smiling and laughing.
Who are all these women in their kooky red-and-purple getups, and what on Earth is going on?!
It's Red Hat Society Day, that's what! More than 70,000 women around the world belong to the international social group, which celebrates its 14th anniversary on April 25, 2012. And while there's a huge luncheon planned in Washington, D.C., smaller events will take place in cities everywhere. Just look around and you're sure to spot a scarlet hat!
We do love all the creative crimson toppers, but it's really the group's good-Karma mission that makes us feel so happy. See, as the largest women's social group in the world, they simply work to bring women together to celebrate life and friendship.
Local chapters of the society help like-minded women age 50-older find each other so together they can dine out, work out, travel, try new things and just embrace life together.
Studies have shown that women with good gal pals and strong female social ties actually live longer, so today is a great chance to celebrate friendship and applaud the Red Hat Society for the positive influence it has on so many women around the world. Yo go, girls!
See which horoscope signs make the best friends and try out our free Friendship Compatibility Meter, too!
Are you in the Red Hat Society? Or do you have good friends who make your life more meaningful?