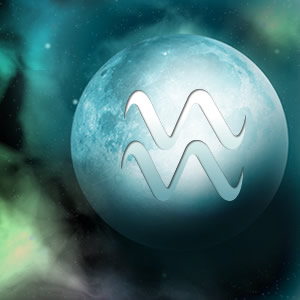 The Full Moon in airy Aquarius on August 13 is meant to provide emotional distance that allows us to back away from our feelings to look at our lives more objectively. This friendly, idealistic and group-oriented sign represents cooperation and teamwork. Its opposition to the Sun in regal Leo, though, challenges an ego-centered sense of self-importance that's warm and expressive yet less willing to recognize the value of treating everyone as equals.
Aries (March 21 - April 19)
This innovative Aquarius Full Moon in your 11th House of Groups is excellent for learning to be more cooperative. Your independent ways may be challenged by the need to give up some control in order to gain the support of others. Your abilities as an effective team player can become a critical issue in your personal and professional life.
Taurus (April 20 - May 20)
The quirky Aquarius Full Moon presents unconventional and futuristic ideas that can seem impractical in your earthbound view of reality. Yet this lunation in your 10th House of Career could require you to move beyond your usual work habits and deal with new people and/or systems. Having a little faith in an unproven practice helps you to meet this challenge.
Gemini (May 21 - June 20)
The freedom-loving Aquarius Full Moon falls in your 9th House of Higher Mind and Faraway Places, inspiring a desire to abandon your obligations. Restlessness can make it hard to settle into your daily routine as dreams of travel can become major distractions. If you can't leave town or take a class, exploring cultural events from foreign cultures should suffice.
Cancer (June 21 - July 22)
This Full Moon is rich in contradictions that can alter your ideas about relationships. It falls in your 8th House of Intimacy yet occurs in the independent sign of Aquarius. The message may be that getting closer to someone comes more easily when you and your partner also have some room to breathe, making your connection a choice instead of an obligation.
Leo (July 23 - Aug. 22)
The Full Moon in cool, cooperative and unconventional Aquarius opposes the Sun, Mercury and Venus in Leo, marking a significant contrast between airy detachment and fiery passion. This event occurs in your 7th House of Relationships, which can attract you to a very different kind of individual or spike the freedom needs of an independent-minded partner.
Virgo (Aug. 23 - Sept. 22)
Innovation on the job and a radical shift in techniques are possible results of the Full Moon in Aquarius and your 6th House of Service. Sticking to your tried and true methods may not be easy and even your daily routine could be shaken. Adapting to new conditions, though, can add interest in your current job or inspire you to seek a more interesting one.

Take a closer look at your life now with a Tree of Life Tarot Reading from Tarot.com!