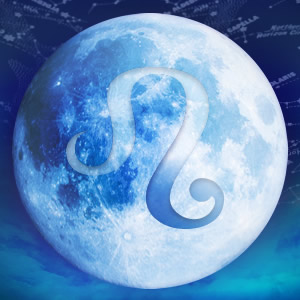 The Full Moon in self-conscious Leo on February 7 opposes the Sun in collectivist Aquarius, which can trigger conflicts between those who want to act on their own and those willing to sacrifice for the team. But any good leader knows that star quality is needed to power the success of a group.
Dramatic personal expression and ego needs can complicate cooperation, but this lunation is a reminder that strong-willed individuals are invaluable assets when given the attention they deserve. See how this fiery Full Moon will affect your horoscope sign:
Aries (March 21 - April 19)
Romantic drama and bold expression are triggered by this Full Moon in your 5th House of Fun and Games. You might be a little louder and more outspoken in your words, and imperious in your actions. Yet when you balance your needs for love and attention with generosity toward others, you can inspire others and ride an energy high of personal pleasure and group creativity.
Taurus (April 20 - May 20)
You're challenged to give up entrenched positions and habits with the dramatic Leo Full Moon in your 4th House of Roots. Domestic issues may create crises on the home front, but these challenges can also inspire creativity that sets your life on a more interesting course. You have passion that needs to be expressed publicly, and this lunation is likely to release inhibitions that hold it back.
Gemini (May 21 - June 20)
Your already-busy brain is likely to get busier with this expressive Full Moon in your 3rd House of Communication. This should add to your powers of persuasion as creativity and confidence rise. Just be careful about overselling something if you won't be able to back up your promises. Getting your foot in the door is easy, but the next step requires persistence, a clear purpose and a solid plan.
Cancer (June 21 - July 22)
This dramatic Full Moon in fiery Leo falls in your 2nd House of Resources, which can spur you to make some extravagant expenses. But it's primarily about becoming a bigger booster of your own self-worth, encouraging you to fight harder to get the rewards you deserve. The major battle, though, is to invest in developing your talents and to be bolder in showing them off to others.
Leo (July 23 - Aug. 22)
This Full Moon in your expressive sign lights up your 1st House of Personality and is likely to put you in the spotlight. This is usually a position you enjoy, but you've got to put on a great show to benefit from it. Being more outgoing and creative can enliven your relationship life. Just make sure you speak up without drowning out others to get the attention without arousing anger.
Virgo (Aug. 23 - Sept. 22)
Unexpressed emotions can come pouring out of you with this dramatic Full Moon in your secretive 12th House. It might be embarrassing, but it's better to know your true feelings than to keep them hidden away. This lunation can also spark a spiritual fire in your heart, so investing time in meditative practices or communing with nature can go a long way to healing your heart.
See what's ahead for you personally with a 30-day Astrology Forecast from Tarot.com.