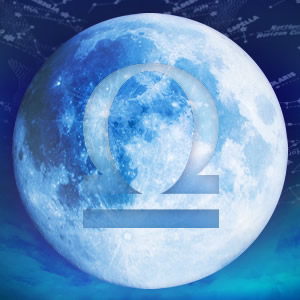 The Libra Moon reminds us that compromise is a key to success in relationships. Yet it opposes the willful Sun in spontaneous Aries, which is more interested in acting independently than slowing down to accommodate others. Knowing when to take charge of your life and when it's appropriate to meet others halfway is the lesson of this Full Moon. Being fair to yourself and others helps to find a healthy balance between these contrasting forces.
Aries (March 21 - April 19)
This Libra Full Moon in your 7th House of Partners can bring relationship issues to the surface. It's about slowing down and listening to what others have to say and factoring that into your behavior. You may be tempted to break for freedom if you've made all the compromises you can, but if you're single and looking, you should know how to put on the charm and attract new playmates now.
Taurus (April 20 - May 20)
Cooperation in the work place is the key to keeping your cool during this Libra Full Moon. You might feel caught in the middle of two opposing forces, yet regardless of your feelings it's better to avoid choosing sides. Building new professional relationships and demonstrating your ability to remain charming under stressful circumstances can earn you more respect from your colleagues.
Gemini (May 21 - June 20)
It's playtime, Gemini, with the sociable Libra Full Moon landing in your 5th House of Fun, Games and Romance. You should find it easy to get attention now, whether you want it or not. So be prepared to be noticed by putting on your best face and showing off just how entertaining you are. Your creative powers should also increase with original ideas providing breakthroughs that enhance self-expression.
Cancer (June 21 - July 22)
Your emotional attachment to the past can spur some conflicts on the home front with this Libra Full Moon in your 4th House of Roots. Instead of holding on to personal history, this lunation can shine a bright light of awareness that allows you to see things from a fresh perspective. Family matters and long-term plans should be discussed with an open mind to put your life on a firmer foundation.
Leo (July 23 - Aug. 22)
Conversations that are going nowhere and connections that you've been failing to make can finally get moving in a positive direction. This charming Libra Full Moon falls in your 3rd House of Communication where it can open your mind to alternative points of view and enhance your abilities to impress others with your ideas. But it's charm rather than passion that will make the best impression.
Virgo (Aug. 23 - Sept. 22)
Money could be on your mind with the lovely Libra Full Moon in your 2nd House of Income. It's a reminder that you may be more valuable when you have a reliable professional partner. If you're already working with an aggressive individual, this could signal the need to redefine your relationship so that you have a fairer share of the profits and an equal voice in the operation.
Start this new cycle with insight! Get a Life Cycle Tarot Reading from Tarot.com.