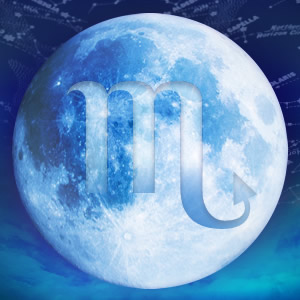 The passionate Scorpio Full Moon on May 5 is a Super Moon -- meaning it will appear bigger and brighter in the sky than any other Full Moon in 2012! At this Scorpio Full Moon, intense experiences are what we crave, which can be a challenge to the opposing Sun in placid Taurus. Do we choose to risk comfort to achieve a greater level of fulfillment, or to settle for what is easiest? Emotional needs and financial issues could come to a boil with this illuminating event. But while feelings may go to extremes, they are meant to expand the field of options instead of simply creating a crisis.
Learn more about this potent Full Moon by reading your horoscope sign's Full Moon in Scorpio horoscope below!
Aries (March 21 - April 19)
Financial partnerships may be seen in a fresh light with this Full Moon in your 8th House of Deep Sharing. You may have to decide whether to give up some independence to enhance your economic opportunities, or to recognize that you've gone as far as you can in the current alliance. Intimate relationships can also be touched as desires deepen while resistance to others' control is likely.
Taurus (April 20 - May 20)
This potent Full Moon falls in your 7th House of Partners, triggering power struggles in current relationships, or provoking you to take risks in pursuit of companionship if you're alone. You could be forced to face your stubbornness if it's keeping you from getting the satisfaction you want in personal and professional unions. Being willing to give up some comfort to gain intimacy is a healthy move.
Gemini (May 21 - June 20)
This powerful Full Moon lands in your 6th House of Employment where it can challenge you to put more into your current job or consider another line of work. Instead of frustrating yourself with power struggles, it's healthier to invest your passion into being more productive or starting your own business. Being honest about your desires will help you make the most useful decision.
Cancer (June 21 - July 22)
Love takes the spotlight with this passionate Full Moon in your amorous 5th House of Romance. Your desire for intense experience is growing, which can precipitate some risky behavior on your part. Yet if you play your cards right, you can put the spark back into your current relationship or take a daring step toward starting a new one. A strong sense of purpose is needed to make this magic happen.
Leo (July 23 - Aug. 22)
Issues may arise on the home front with this emotionally charged Full Moon falling in your 4th House of Home and Family. Domestic matters could steam with intensity as old issues may resurface in powerful ways. While you may be tempted to try to push them out of the way, it's best to dig into these complex feelings and face them head-on. Be kind to yourself and others to keep things from going too far.
Virgo (Aug. 23 - Sept. 22)
Secrets could be revealed with this intense Scorpio Full Moon in your 3rd House of Communication. Respecting others' privacy is one way to avoid adding fuel to the fire. But if you're researching an important subject or simply want to engage in more intimate discussions, this is an excellent opportunity to do so. Seeing problems is easy, but coming up with solutions is more satisfying.
Start this new cycle with insight! Get a Life Cycle Tarot Reading from Tarot.com.