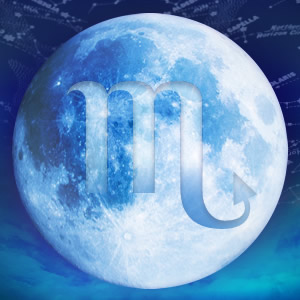 Libra (Sept. 23 - Oct. 22)
Money matters heat up with this Full Moon in your 2nd House of Resources. If finances are tight, though, the point is to turn fear into constructive action. This might involve letting go of a current job or project to seek out a more rewarding situation. It's also possible that you may revive an unused talent or business plan that can work well if you commit to it with everything you've got.
Scorpio (Oct. 23 - Nov. 21)
This forceful Full Moon in your sign brings strong emotions to the surface. You can go to extremes by finding so much fault with yourself that it's unfair. Or you could turn on the charm and use your considerable powers of persuasion on others. Either way, you're unlikely to be in a mood to compromise or to let little things like reason get in the way of the intense feelings that are driving you.
Sagittarius (Nov. 22 - Dec. 21)
You might want to retreat and regroup with this intense Full Moon in your spiritual 12th House of Contemplation. Getting away from the pressures of daily life to think quietly in a safe place can clear your head and emotions. If you feel betrayed by someone, don't simmer in secret but face your feelings directly. This might not be a pleasant exercise but it will go a long way to clearing the air so you can move on.
Capricorn (Dec. 22 - Jan. 19)
Intense relationships within groups and as part of a team are spiked by this emotionally powerful Full Moon. If you're not getting what you want, consider changing your role. On the plus side, this lunation can trigger strong desires to contribute to a cause. Belief in something larger than yourself gives a greater purpose to your life that leads to a sense of fulfillment you can't find on your own.
Aquarius (Jan. 20 - Feb. 18)
Keeping your cool isn't necessarily in the cards with this emotionally charged Full Moon in your 10th House of Public Responsibility. Yet instead of running from your feelings, the message is to use them to motivate your professional life. Finding and showing your passion increases the commitment of those around you, which can take your leadership abilities to an even higher level.
Pisces (Feb. 19 - March 20)
This Full Moon lands in your 9th House of Beliefs where your passion can motivate you to be a more effective teacher. Sharing your ideas with intensity can help you overcome the resistance of others, yet you need to have facts to back up those feelings. Don't let your attention wander when you're on a quest or battling for an ideal that is near and dear to your heart.
Start this new cycle with insight! Get a Life Cycle Tarot Reading from Tarot.com.